Double installation of the Focus eFlex 330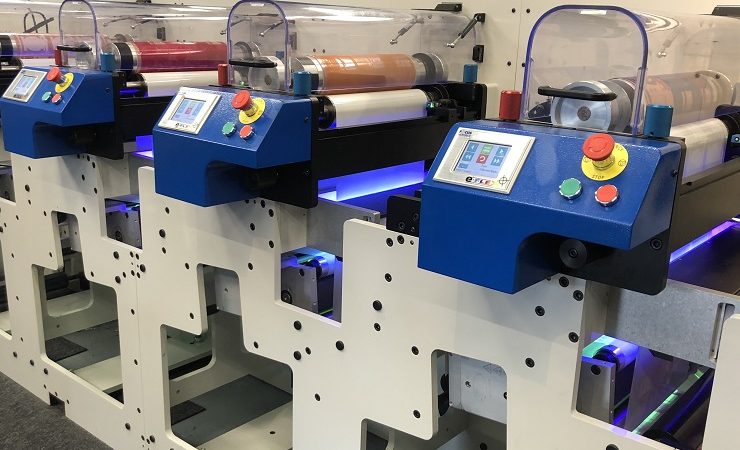 The e-Flex platform provides the possibility for stepped specification levels, according to client requirements and budget
A European label producer has installed two Focus Label Machinery eFlex 330 full servo flexo presses to complement its eclectic mix of printing processes.
The company is an existing Focus customer and is one of Europe's biggest manufacturer of foil labels for permanent industrial marking. As well as flexo, the company utilises various digital printing methods, silk screen print (UV, IR), thermal transfer, as well as mechanical treatment technologies: rotary, flatbed die-cutting and kiss cutting, cutting by rewinding, laser marking and cutting, lamination of up to seven layers. 
The e-Flex is a fully servo driven, in-line modular press supplied with print widths of 330mm, 430mm and 510mm. Several different drying systems are available, including full UV, LED, Infra-Red – or combination drying systems, with optional chill rolls for heat sensitive substrates. The press frame has been designed to accommodate various dryer combinations, whilst still maintaining the shortest possible web path. 
Servo driven print cylinders and impression rolls enable point to point pre-register set up and full auto-register, resulting in quicker set up times, precise print registration and reduced material wastage across a range of substrates. Bearer rings are incorporated into the print cylinder assembly, to guarantee accurate print impression settings, regardless of substrate.
A rail system is mounted along the top of the press, to allow optional overhead press equipment to be easily transported to the required position. Options such as turn-bar, delam-relam, cold foil, laminating, waste rewind turret, scanner systems, etc – can all be rail-mounted.
The open architecture design of the print stations enables easy loading of ink cartridges and print cylinders, so that interchangeable print cartridges can be partially or fully unloaded or exchanged, in order to minimise downtime.  The print cartridge assemblies can be cleaned off press, allowing the operator to maintain uninterrupted production.
Antony Cotton of Focus Label Machinery commented, 'The e-Flex platform provides the possibility for stepped specification levels, according to client requirements and budget – but with built in essentials, such as high speed job changes, automated set ups and increased efficiency in all aspects of design & operation.'