Printing Expo moves towards launch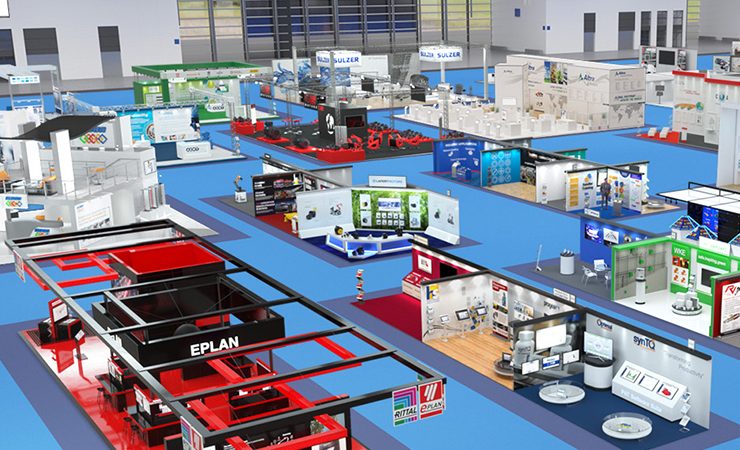 A 3D rendering of the proposed Printing Expo virtual exhibition show floor
Printing Expo, a virtual exhibition for the printing industry, is moving closer towards its launch, with a growing exhibitor list forming as the world has begun to emerge from the initial impact of Covid-19.
The virtual event concept was introduced earlier this year and had initially been expected to go live over the summer. However, logistical challenges brought about by the global coronavirus pandemic, which has seen large swathes of the print industry workforce furloughed or placed on some other job retention scheme, has pushed this back. Whilst the show's sales process has been delayed by lockdowns and furloughs, leaving prospective exhibitors without key staff, it has been reported that there is now 'much greater activity', with large and small customers signing up recently.
Muller Martini has already been confirmed as one of the first participating companies, while a major digital supplier is expected to be confirmed as the second imminently.
Printing Expo show director Wayne Beckett commented, 'We are currently building a full showroom including equipment, reception area, and an upper deck meeting zone reached by an elevator.'
Technical challenges have also played their part in delaying the show's launch, as Printing Expo is intended as an enhanced virtual exhibition portal for the print industry, with stands rendered out in real-life 3D designs. It is possible for a company taking a large stand to show a B1 press, or many for example, and there is a range of stand designs and sizes including many custom builds for suppliers and OEMs of all sizes. With equipment and products rendered out down to precise placement of logos, and offering the ability to walk around and peer into the equipment, this has introduced an additional layer of complexity to building stands. With the Muller Martini stand and forthcoming second exhibitor's stand exceeding more than half of the 10,000sqm initially booked for Printing Expo on the V-Ex platform, such stands have required extensive and detailed creation to ensure they reflect the real world as closely as possible. Further, a conference area will include space for coffee and networking, double doors and theatre-style seating to replicate an auditorium as you might expect to encounter in the real world.
Mr Beckett continued, 'For us it's about the entirety of the experience. This is not like attending a Zoom call.
'It is the same process as signing people up to live events. This is not about online seminars; it's about giving exhibitors real leads and real value.'