New module for PrintSTAR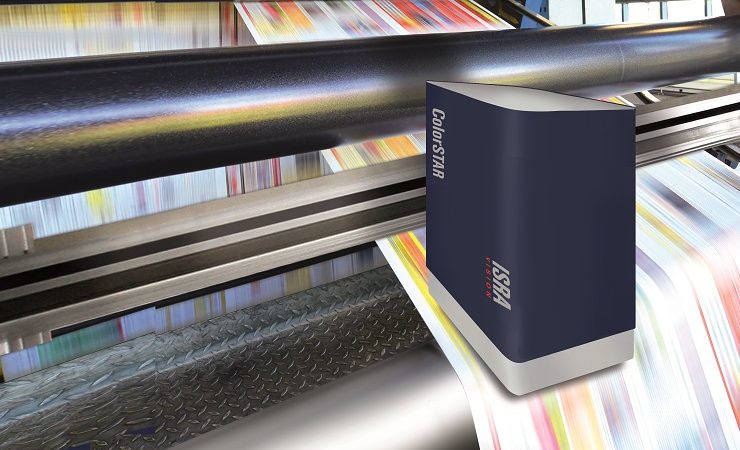 Isra Vision has launched a new module for it 100% print inspection system PrintSTAR, ColorSTAR which provides colour measurement to ensure colour specifications are met.
According to the company, this module allows printers to benefit from a smooth, error-free production process and can acquire new clients.
The ColorSTAR module enables continuous monitoring of the colour accuracy of printed products on printing machines, without interrupting production. Colour line scan cameras are combined with a spectrophotometer to enable continuous measurement and monitoring of absolute colour values (L*a*b*) and colour density. These measurements can be performed and repeated at any point in the process. As soon as printing commences, the measured colour values are compared to the target specifications. The operator can adjust the colour without having to stop the printing machine. ISRA technology allows the taking of real-time measurements, thereby reducing make-ready times by up to 60% and lowering material consumption. The system guarantees colour consistency throughout the entire print batch in line with the brand owner's specifications. Manual measurements  are no longer necessary.
Colour deviations are prevented across the entire web width, and the customer's expectations are met. Any deviations that exceed a fully-adjustable limit value trigger an alarm or other actions. Rejects and waste products caused by colour deviations are now a thing of the past. The system, therefore, makes a valuable contribution to sustainable production.
The solution is suitable for all substrates and operates at any printing speed. Measurement positions are tracked automatically and continuously for all materials, including thin and stretchable ones, without any additional equipment. The colour consistency must be documented for the brand owners. With ColorSTAR, complete and automatic documentation of every roll is guaranteed. This enables efficient process and quality control. Deviations between target and measured values are recorded and displayed in an L*a*b* diagram
Another distinct feature is scalability. Printers can use the solution that is tailored precisely to their requirements. PrintSTAR can be equipped with the ColorWATCH option, an introductory solution for comparing colours with a master file. If requirements increase, it is possible to upgrade to the ColorSTAR option at any time, enabling absolute colour measurement at all times. Thanks to inline colour measurement and well-documented colour consistency, printers will be able to gain new customers in the demanding packaging sector.