Soma demos Optima2 upgrades online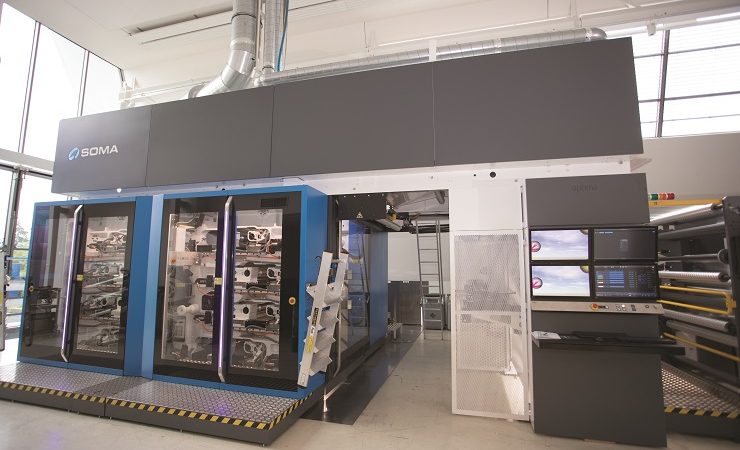 MacDermid's Atlanta headquarters will now feature Soma's Optima 2 press
As a substitute for this year's missed drupa event, Soma has launched a new generation of its Optima² flexo press, with an online product launch webinar.
The new generation of Optima2 comes with intelligent automation features which contribute to high quality printing, improved communications, and primarily helps to ensure a quick and easy change-over between jobs.
The company also introduced the S-Mount automatic plate mounter and a new generation of its Pluto slitter rewinder.
Part of Soma's updated plate mounting process utilises the Arun feature of plate topography and register measurements, which provides the foundation for automatic registration and impression settings on the press.
Intelligent Job Tuning is the company's second-generation Advanced Bounce Control feature, contributing to exceptional print quality. It is a specially designed software algorithm, performed during job set up, that minimises the bouncing effect for each design.
During the webinar, Soma also introduced a web-based Intelligent Service platform. It is a cloud solution that provides a quick problem-solving communications channel for the customer.
The company also performed a live print demonstration to show these features in action. As a particular challenge in the first design, a 5cm gap completely across the web was purposely placed into the design to test the absence of bounce. Additional bouncing elements were also designed into the artwork. However, even at speeds of 500 m/min speed, there were no bounce issues with the print.
The demo also showed a job changeover on the automatic plate mounter, S-Mount and setting the registration and impression with the Arun system with zero meters of waste.