Reflex fits Martin systems in Leicestershire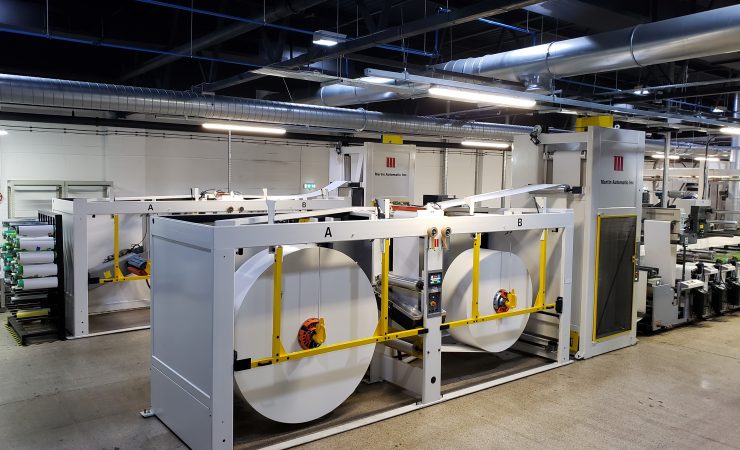 Martin Automatic MBX splicers unwind rolls of paperboard into MPS EF-520 presses
Reflex Labels has fitted unwind/splicing systems from Martin Automatic to its MPS production lines in Barwell, Leicestershire. These systems specialise in product development for, amongst others, the 'food to go' sector.
Reflex Label Plus, a division of the Reflex group, has its own website and its own focus—applying innovative techniques and processes to combination printing for the food, pharmaceutical, health and beauty, and beer, wine and spirits markets.  
It has installed the Martin MBX butt splicer that unwinds paperboard, typically 150-450 micron, from rolls as large as 1828mm in diameter. Additionally, each press was specified with a Martin MBSF splicer. Initially supplied to feed 12-18-micron PET and OPP films, production manager Shaun Boult notes that the MBSF splicers' multi-substrate abilities to run paper and light board stocks will be crucial as Reflex looks to manufacture differentiated products.
Referring to the combination of Martin splicers on his MPS presses, Mr Boult commented, 'Obviously, we bought them for continuous running, and our material waste has reduced to nearly nothing.  With the excellent registration capabilities of the MPS presses, we throw out just the one product with the splice in it.'
Mr Boulter also said that the simplicity of the Martin splicers is also an advantage in training, 'It's easy equipment to learn how to use, easy to train our operators—30 minutes and they've got it, and they can concentrate on the other parts of the line. I highly rate them.'
Speaking for the Reflex Group, CEO Ian Kendall concluded: 'The biggest thing we look for at Reflex is customer support – and I cannot fault Martin in this respect.  They are always quick to respond, and their equipment is reliable and consistent – everything you need for continuous production.'