MPS and Colordyne make move on mid web packaging market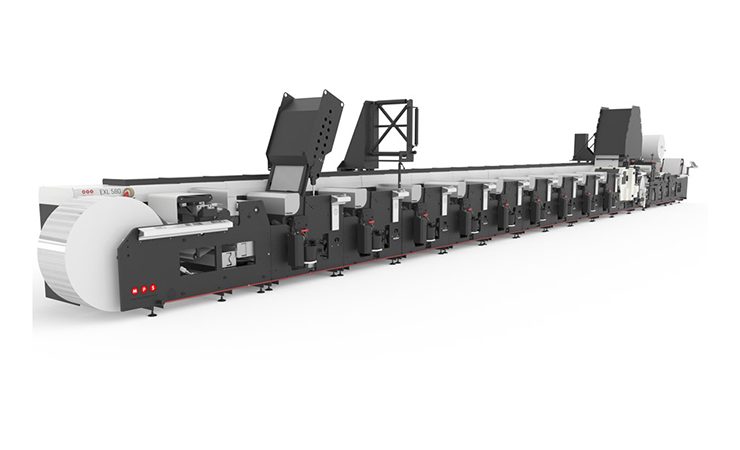 The first result of the partnership is an MPS EXL-Packaging press integrated with Colordyne inkjet engine
MPS Systems and Colordyne Technologies have entered into a strategic partnership to bring new mid web hybrid printing technology to market.
This will combine the Dutch press manufacturer's expertise in flexo printing with water-based inkjet. Specifically, Colordyne's digital print engine using Memjet's DuraLink printhead technology is to be integrated into the MPS EXL-Packaging product line.
EXL-Packaging presses allow a printing width up to 670mm and a repeat size of 12-32in. With the modular design of = the EXL-Packaging product line any combination of flexo and inkjet technology, plus additional machine functionalities and technologies, can be configured to meet the needs of the individual customer.
Andy Matter, president at Colordyne Technologies, said, 'Both of our companies see an opportunity to expand beyond the narrow web label and tag market.'
MPS CEO Atze Bosma commented, 'After the successful experience of offering hybrid solutions for the narrow web market we strongly believe that the hybrid technology will also be part of the future for the mid web packaging market. As we are very much focused on the total process, we believe in the combination of aqueous inkjet technology and flexo for the flexible packaging market.
'Working with Colordyne on the new aqueous pigment inkjet technology provides an additional way for us to deliver the best solutions to our customers.'
Mr Matter continued, 'Working with MPS allows us to deliver complete hybrid solutions featuring wider web widths and the capabilities to expand into packaging applications beyond pressure-sensitive labels. We look forward to providing customers in new markets the solutions they need to enhance their production capabilities at an affordable price point.'
The first developments of this partnership will be shown at Labelexpo Europe 2019, where MPS is also presenting a 430mm-wide EF Symjet hybrid press.