Watershed moment for Mark Andy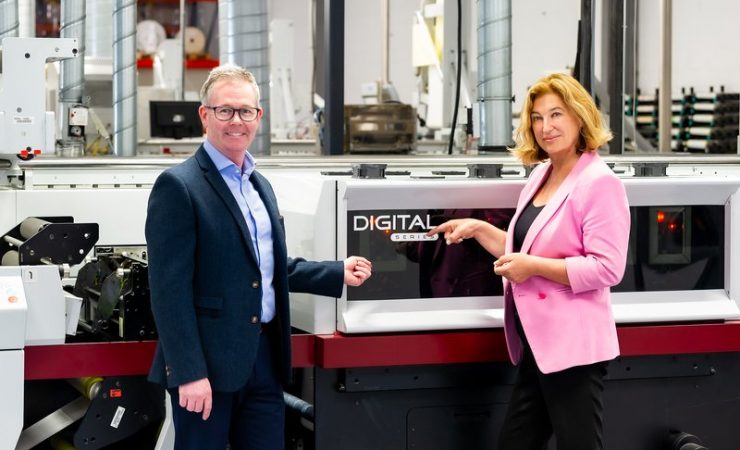 Watershed director Patrick Murphy (left) and CEO Liz Waters with the company's Mark Andy Digital Series hybrid press
Irish label and packaging company Watershed Group has invested in a Mark Andy P5E Performance Series flexo press as part of a €3m move to new headquarters in Dublin.
Watershed, which now has 11 Mark Andy presses distributed across its sites in Ireland, Germany and Poland, has challenged itself to bring in €30m in revevnue over the next two years. The relocation is seen as central to achieving this goal as it means the company has twice as much space as before. 
'We decided that building close strategic partnerships is a key element of our growth strategy and aligning our business with Mark Andy continues to be the right decision,' said CEO Liz Waters. 'As with all partnerships, it's not been without issue, but both sides have benefited from their commitment to work at a problem and develop the solution. We were the first label company to operate Mark Andy presses in Poland, Germany and Ireland and we envisage that the relationship will continue to grow.'
Watershed installed the first digital hybrid press in the UK and Ireland in 2018 as part of its strategy to compete in the market for premium drinks labels. 'We know how good Mark Andy flexo quality is, so the commercial possibilities and cost saving benefits of combining flexo with the flexibility of digital inkjet in one press was too tempting to resist,' explained director Patrick Murphy. 'The digital quality matches the flexo, and if need be, we can bypass the digital engine and run the press all flexo.'
Alongside the new P5E press the company has also invested in the Digital Series inkjet hybrid press based on the modular P7E platform and two Rotoflex HSI, pharmaceutical standard inspection rewinders. The P5E is an eight colour 430mm model fitted with full UV, turn bars, delam/relam, chilled impression rolls and the QCDC die station.