Esko scoops top gong in New Orleans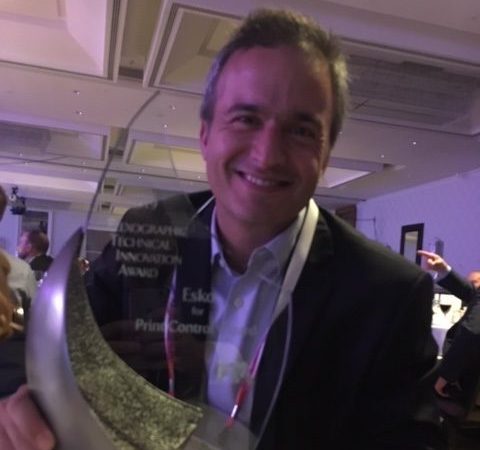 Esko customer Sebastian Longo, president of Fotograbados Longo, with the award
Esko's Print Control Wizard software has won a Technical Innovation award at the 2019 Flexographic Technical Association (FTA) Awards in New Orleans. 
The Belgian company developed the software in response to calls from the industry to simplify the implementation of screens and dot gain curves in the reprographics process. It has had a positive impact on a range of reprographics processes, outputting a new screening algorithm to address a range of potential print issues.
'We are delighted to be recognised by the FTA for our Print Control Wizard software development,' said product manager Robert Bruce, as he accepted the award at FTA Forum Awards banquet. 'We worked extensively with a number of customers, including Sebastion Longo, president of Fotograbados Longo, who joined us on the evening, to ensure the new technology meets the needs of pre-press professionals around the world.'
The Print Control Wizard application outputs the right plate, based on a range of print run parameters. Plates managed by the software use screens and dot gain curves that take in to consideration the press, substrates, inks, anilox and other print run parameters.