The Woodpecker arrives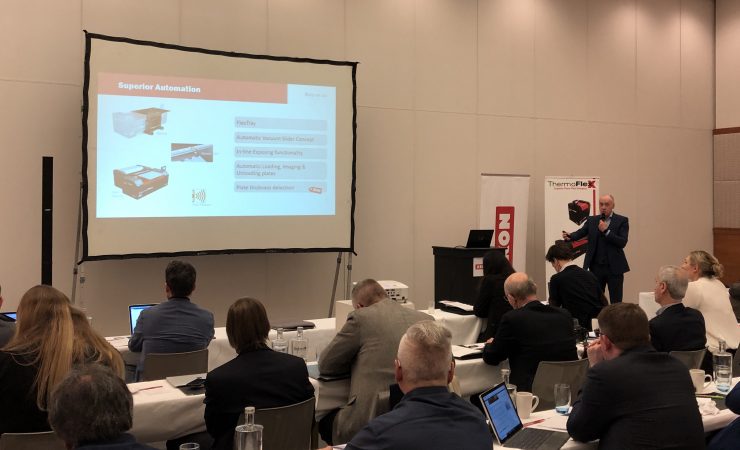 Christophe Lievens introduced the new screening at a press conference in Belgium
Imaging systems manufacturer ThermoFlexx has introduced a new surface screening technology for its flexo plate imagers, which offers higher solid ink density and smother laydown. Christophe Lievens, director of sales and marketing, said, 'The Woodpecker Nano Surface Micro Structures is a very promising technology and a major breakthrough for LAMS imaging.'
The new technology promises to eliminate dot bridging and tonal jumps, minimise or eradicate halo effect in solid type and trailing edge or void effect. Savings in ink costs will result from more efficient ink pick up and transfer from low volume anilox rollers, the ability to choose lower pigmented inks and an increased tonal range making fixed palette printing viable, amongst others.
General manager for Xeikon pre-press, Uwe Stebani, said that the company has seen 'a considerable increase in market share in 2018,' claiming that it is the fastest growing image producer worldwide with over 7000 systems installed across sectors.
Woodpecker Nano has been beta tested at sites in the UK and Turkey. It can be used on plates from all manufacturers and existing ThermoFlexx equipment can be upgraded on site.