YRG invests in UK's first Esko CDI Crystal 5080 XPS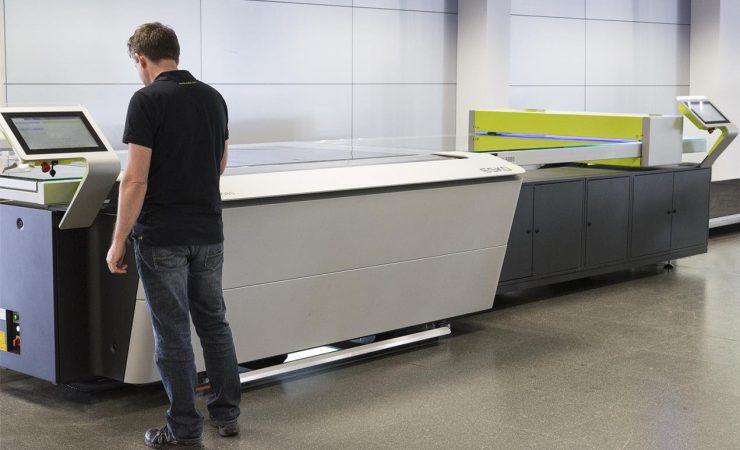 YRG has taken delivery of the first CDI Crystal 5080 XPS in the UK
York Reprographic Group (YRG) has taken delivery of the latest CDI Crystal 5080 XPS technology for digital imaging and exposure of plates from Esko. Complemented by investment in a new X22 Kongsberg table for digital plate cutting, the installation performed in December is a first for Esko in the UK.
'We pride ourselves in being early adopters of new technology for the print industry,' said managing director Mark Gration. 'We simply can't afford to stand still. With quality, consistency and speed to market being critical for our clients, investing in the latest digital flexo solutions to drive press efficiency and print performance is key to maintaining our market leading position.
'The investment adds capacity to our business, complementing our existing four cutting tables, along with our 10 CDI imaging devices, to meet the needs of our growth strategy. While driving efficiency, this technology also significantly enhances our client's print quality and consistency and we believe it to be a major development for the flexographic printing industry.'
As a leading reprographics company, the company has disclosed its intention to roll out the use of the Esko Crystal solution throughout its entire group.
'We are delighted that YRG, as a long term Esko customer, is leveraging all of our software and hardware in an integrated way to better serve its customers in terms of quality and efficiency,'  added James Mason, managing director of Esko UK, Ireland and Scandinavia.
'The new CDI Crystal screening technology is a leap forward for reprographics businesses in terms of delivering flexo print performance excellence. The combination of the high-resolution fiber laser imaging, and the patented simultaneous back and front UV LED exposure, produces digital flexo plates with unique performance on press, reliable reproducibility, plate stability and consistent quality. The CDI Crystal XPS simplifies plate room operations and increases operational efficiency.'