KDX introduces metallic laminate to the UK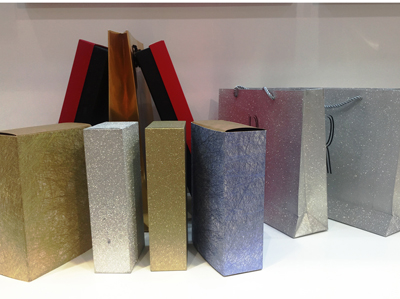 KDX's Metallic laminating film – not just for Christmas
KDX has introduced dedicated UK stock of its speciality Glitter and Metallic films – ideal for luxury print and packaging, gift tags and cards, boxes, POS and book covers.
Premium Brushed (Gold/Silver/Copper) gives a textured, stainless steel look and finish. Premium Metalised (Gold/Silver) gives a metallic, reflective and mirror-like surface and Premium Glitter (Silver/Gold) thermal films have a uniformed glitter surface effect similar to metal sand blasting.
The films are designed to be laminated directly to the printed board and then printed using offset UV and converted separately. The surface is also suitable for UV Varnish, embossing and foil blocking.
Premium Glitter film will not drop particles, and gives a non-directional, uniform glitter effect which allows smooth running and eliminates production issues associated with 'shedding' of traditional glitter.
Laminating films are available in bespoke sizes with sample rolls available in 440mm and 630mm widths x 200m, ideal for shorter runs, one off orders or trial product testing and customer samples.