RotoRepel wins in Chicago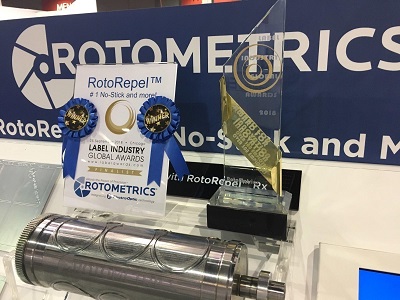 RotoMetrics has been named the winner of the 2018 Industry Innovation Award for its RotoRepel adhesive control treatment at the Label Industry Global Awards held during Labelexpo Americas 2018.
RotoMetrics' RotoRepeltreatment is changing customers' expectations when it comes to adhesive control on the press. The company's coating for rotary flexo tooling provides a reduction of adhesive buildup on all adhesive types resulting in less die wear and damage which leads to a significant reduction in number of press shutdowns.
The coating makes dies easier to clean and means there are fewer missing labels and a reduction of blocking during rewind reducing waste and inefficiencies.
Additionally, the new RotoRepel Rx formulation is compliant with US FDA regulations and is safe for intended use in the conversion of parts, devices and labels. It also meets the requirements for food contact applications.