ATL expands capabilities with Colordyne retrofit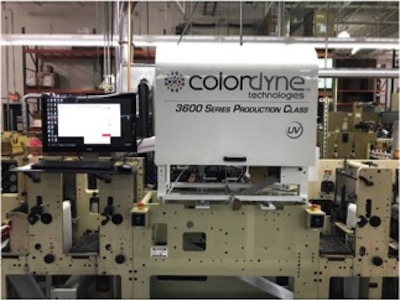 Ad Tape & Label (ATL), a Wisconsin-based converter, installed the first 3600 Series UV – Retrofit from Colordyne Technologies, to expand its printing capabilities and enhance production flexibility.
The company has served its customers since 1951 with custom flexographic label printing and its facility houses a full complement of converting equipment and flexographic presses.
'The 3600 Series UV – Retrofit helps us be more competitive in the short run label market,' said Mike O'Connell, business development manager. 'We can now offer current and new customers more affordable short run label quantities in less time. In addition, we are looking to incorporate more variable data applications into our production.'
The 3600 Series UV – Retrofit reduces turnaround times on short run jobs, which has given the company an edge in new markets. Ad Tape & Label has a lot of customers with multiple SKUs who only need a small quantity of each label. Prior to the UV retrofit acquisition high-mix, low-volume jobs like this were not time or cost effective to produce on flexo equipment. Using digital print technology makes executing short run quantities faster and more affordable for both Ad Tape & Label and its customers.
'The flexibility and high-quality of the UV retrofit helps us better serve new and existing customers,' said Carissa Tesch, art director of Ad Tape & Label. 'For example, when a customer comes in with artwork changes, they usually need it completed quickly. Digital print lets us make art changes on-demand, without sacrificing print quality or waiting for new plates.'
The 3600 Series UV – Retrofit uses digital UV inkjet ink, which is ideal for durable and industrial applications. The print engine allows users to maintain full use of existing flexo, tooling and finishing assets for flexible production on the same piece of equipment. The 3600 Series UV – Retrofit offers 600 by 600 dpi resolutions at speeds up to 75m/min.
Ad Tape & Label chose the 3600 Series UV – Retrofit for its hybrid printing capabilities. The company can print labels digitally and then finish them on the flexo press in one pass. Ad Tape & Label plans to expand its current print offerings with the digital technology to include UDI labels, lot codes and date codes.