EFIA improves training courses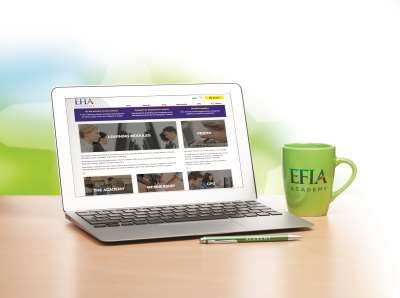 The European Flexographic Industry Association (EFIA) has bolstered the training it offers by providing a full suite of tailored training options to support the flexographic industry at every level.
EFIA's Academy offers a convenient e-learning solution to the entire print supply chain, from designer to retailer. The training offer available through the Academy now includes 14 modules, providing tailored e-learning resources in areas such as inks, fault finding, film substrates, reprographics and lean manufacturing. It is designed by leading flexographic print experts and is recognised by all leading print companies as the best training solution for the flexography industry.
In tandem with its Academy, EFIA has also introduced a hands-on programme to support and reinforce the training provided via e-learning, giving students the chance to experience first-hand what they have learned in their online modules. This is free of charge to Academy students and takes place at EFIA partners' premises, helping to consolidate learning. 
Debbie Waldron-Hoines, EFIA Consultant CEO, said, 'Supporting the industry with relevant, nationally recognised training is a core part of EFIA's mission. Investing in the future of the sector through tailored training is vital, both to help people to upskill and further their careers and to address the inevitable skills shortage an aging workforce presents by attracting new talent.
 'We have had excellent feedback since the introduction of hands-on training, with participants reporting that seeing the process first hand has proven to be a great addition and support to the knowledge obtained via our e-learning resources.'
To ensure comprehensive, appropriate training is provided from the very beginning of individuals' careers, EFIA has partnered with specialist apprenticeship and training provider, SkillCert, to offer Performing Manufacturing Operations (PMO) apprenticeship, Level 2, to the industry.
The nationally recognised apprenticeship is designed to assess and provide evidence of an employee's ability to perform particular roles in manufacturing industries.
PMO Level 2 incorporates training modules from the EFIA academy to create a comprehensive course covering aspects of a variety of operational performances. The course can be tailored due to the diversity of modules available, relating to processing, production, assembly and reworking of materials and products within the manufacturing, logistics and supply chain sectors.
Successful graduates of the apprenticeship achieve a number of qualifications including EAL Level 2 NVQ Diploma in PMO including a Competence component, EAL Level 2 Award in Industrial Environmental Awareness and a Business Improvement Technique Certificate.