Plastiques Landais adds second Comexi press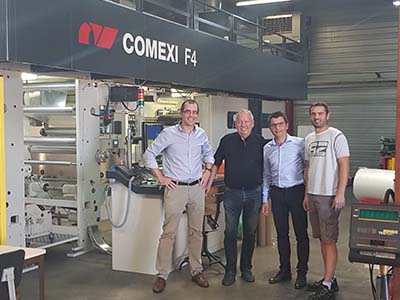 French converter Plastiques Landais has installed a new Comexi F4 flexo press at headquarters in Castets to address demands for shorter runs and fast turnaround.
'We were really impressed and satisfied with Comexi printing technology. The F4 offers many options for us and is also ideal for short runs. We have been able to check and analyse its top performance, high productivity and fast changeovers,' explained owner Pierre Schoettel. 
Comexi's area manager for France, Olivier Gibert, said, 'We are really pleased with this new acquisition by Plastiques Landais, which has once again relied on the technology and quality offered by Comexi to maintain its level in the demanding French market.'
The F4 press prints in eight colours, in widths of 720-920mm and speed up to 300m/min, and is the first to incorporate the company's flexo efficiency patented concepts, with ergonomics and accessibility, as well as performance and robustness, which also characterise the F2 range and the new Comexi F1.