Focus and Nazdar team up to push UV LED printing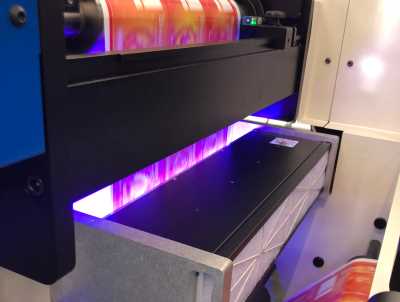 Nazdar Ink Technologies has partnered with Focus Label Machinery to help drive the growth of UV LED technology within the label converter market in the UK and EMEA.
With a mutual interest in the technology, both companies share an objective to showcase how – alongside traditional products, UV LED curing technology is a commercially-viable option for the label and packaging producer.
UV LED lamps use less energy than conventional mercury lamps and do not create ozone gases. Lower heat output from lamps also means it is easier to manage temperature-sensitive substrates.
Other benefits include a longer lamp life and therefore less maintenance downtime compared to mercury lamps, and less heat-up time as UV LED lamps are ready to work in minutes. Peak output is also better maintained with UV LED technology, improving print consistency, and users can take advantage of high production speeds up to 300m/min.
James Thomas, business development and marketing manager at Focus Label Machinery, explained, 'We demonstrated Phoseon UV LED technology at our Open House event earlier this year. Following great feedback from visitors, we decided to fully fit our 6-colour e-flex press with Phoseon lamps and after completing some ink trials are now running Nazdar inks to demonstrate the benefits of UV LED technology to the label and packaging market.'
Jim Whitehead, Nazdar's sales manager for EMEA, with responsibility for the flexo technology sector, added, 'Many label and packaging converters don't fully appreciate the breadth of UV LED curing ink products that Nazdar has – and the benefits they offer. We are thrilled to be able to support Focus Label Machinery with their push to demonstrate the technology and provide the newest UV LED curing equipment on the market.'
Nazdar flexo products include metallics, peel and reseal coatings and Nestle compliant inks, which the company says can be cured at high speed and offer equal colour strength to conventional curing ink systems.