Love smoothies loves Mercury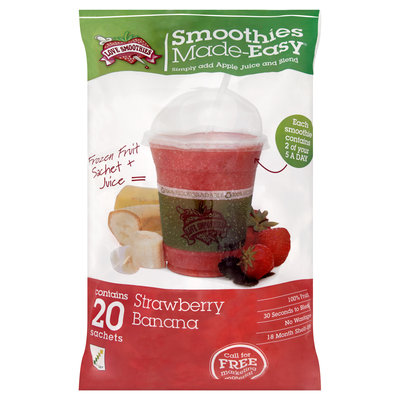 Love Smoothie multi pack produced by FlexoTech Supreme Award winner Mercury Packaging
When Love Smoothies secured a trial for a multi pack of its popular Made-Easy frozen fruit sachets, it discovered that some of the larger packaging companies weren't interested in tendering for the smaller production runs that would be required initially. However, Mercury Packaging, specialist in high quality, flexible packaging for the food industry, stepped in with expertise and helpful advice to win the competitive tender.
Tom Elvin, sales manager at Love Smoothies, commented, 'We are obviously used to dealing with food service environments and packaging manufacturers, however, the multi pack trial for a wholesale retailer required packaging suitable for deep freezing 20 smoothie sachets together, which was a new area for us.'
He continued, 'Having trawled the internet for appropriate packaging suppliers, Mercury was quick to provide very useful information and advice, and even recommended us to another company in order to get a sample product made up. The team's expertise and helpfulness in the first instance definitely played a part in securing it the business.'
Love Smoothies produces frozen fruit sachets which, when blended with fruit juice, result in a healthy drink that is quick and easy to make. With no additives, no preservatives and less waste than traditional smoothies, they are proving popular in numerous food service outlets such as hotels, schools, cafes and leisure parks.
Nottingham-based Mercury developed a bespoke bag to hold 20 individual Love Smoothies sachets, which is made from polyester films specially designed to meet the demands of freezer storage. Using its award-winning flexographic printing skills, the sachets are branded with a superb eight-colour design and printed on the company's Uteco Onyx CI press. Three different designs have been produced for different flavours of smoothie.
Mike Barlow, technical director, said, 'The main requirements of the brief were functionality, strength, durability and resistance to deep freeze temperatures as the product would be packed, moved and stored in deep freeze conditions.  The ability to reproduce eye-catching designs was also a key factor.'
Mr Elvin concluded, 'We found the overall service from Mercury to be excellent. The team was very thorough and highly experienced. They also provided lots of advice about the type of film and packaging required in what was a completely new area for Love Smoothies. Plus, they invited us to their production facility when the first batch of bags was being printed, so we were able to make some changes on site to ensure top quality, accurate reproduction of our designs.'
Established in 1999, Mercury Packaging employs over 50 people at its site in Kirkby-in-Ashfield and now boasts an annual turnover of approximately £7million.
It is an independent business working to stringent quality protocols with many of its products carrying technical accreditations. The company has invested for maximum operating efficiencies with production, printing and warehousing facilities geared to support efficient supply chain management service and significant future growth.
www.mercurypackaging.com