Two Gallus presses are brought in to boost efficiency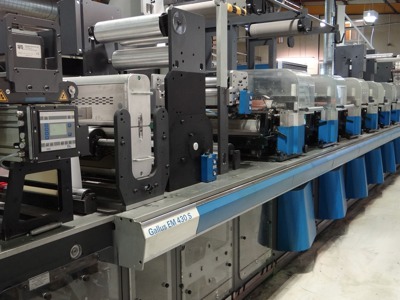 TW Parkers, a self-adhesive label and packaging converter, has installed two Gallus EM 430 S lines to boost efficiency and broaden the scope of its production capability.
The two machines replace three older 330 mm wide presses at its plant in Bootle, on Merseyside, and according to the company, have 'doubled running speeds and have the additional benefit of a wider web width.'
Established originally in 1952 as a supplier of paper bags to the grocery trade, the company has always been involved with food packaging, and moved into labels and carton production with a mix of flexo and offset press technology. However, it was the company's desire for innovation that led it to become an award winning label converter when it developed specialist techniques and knowledge to develop the market for post-mould labelling of food containers.
Still under family ownership, with Tim and Toby Parker at the helm, the company underwent a major programme of expansion five years ago with the appointment of Eugene Roche as operations and development director, and Phil Hood as sales director.
Since 2007, turnover has more than doubled to £7.3 million. Mr Roche is now well on course for achieving 'world class' plant effectiveness of 88% by the end of 2013 having raised it from 55% to 78% already.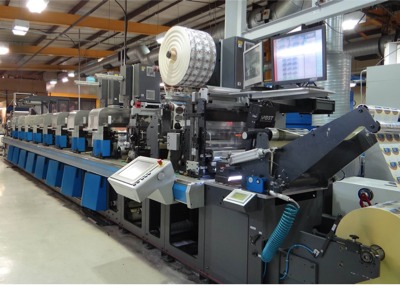 The two new the presses are a key element in this improved efficiency. Part of an investment programme that topped £2 million, the company chose the presses after extensive testing and detailed negotiations to ensure that the manufacturer could precisely meet the company's requirements, and, as far as was possible to predict, future proof customer changes in demand. 'We considered all options including having our existing presses reconditioned, but came to the conclusion that to move the game on we needed a fresh start. The Gallus machines offered that, handling all of the customer jobs we test printed,' explained Mr Roche.
The Gallus EM 430 S is a further development of the existing 410 mm wide press, and those at Parkers were the first off the production line, so a close working liaison between manufacturer and user was always going to be essential to maximise the benefit for both.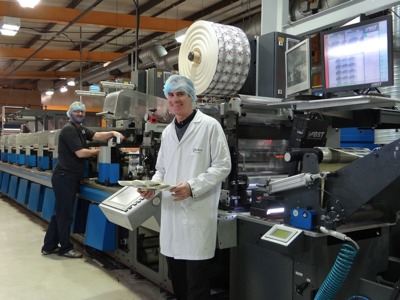 Production manager Paul Smith (right) and printer Robbie Rea (left) 
Key to the success of the new presses has been their ability to hold tight register at high speed on PET, foil and unsupported film materials. 'The Gallus' ability with fine print and cold foil has given us a useful sales tool because it's a reliable form of added value decoration,' explained Mr Hood, adding, 'We now have an extended and more versatile capability across a variety of substrates and an improvement in quality that is out of all recognition.' Part of the investment package included web monitoring with a camera to improve quality. Fitted with visual and audible warnings, the inspecting units can be set to pre-determined parameters to allow the presses to run at high speed. 
Specified with eight UV flexo stations, cold foil laminating, automatic register and two die stations, the EM 430 S is something of a hybrid, with servo drive, and crucially for ease of operation, sleeve technology on each station for the loading and unloading of print cylinders and anilox rollers. Its modular platform design concept allows for flexo and screen heads to be switched quickly and easily, and with its sliding touch screen panel that allows the operator to control the press from any point along the line, it is well suited to short and medium run work on paper and plastic substrates.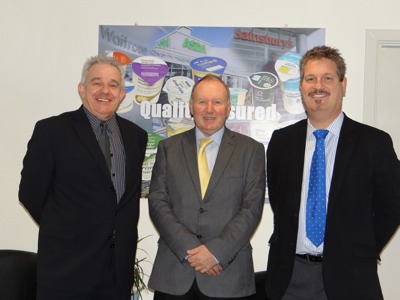 CEO Tim Parker flanked by Operations & Development Director Eugene Roche (left), and Sales Director Phil Hood (right).