JFM expands capacity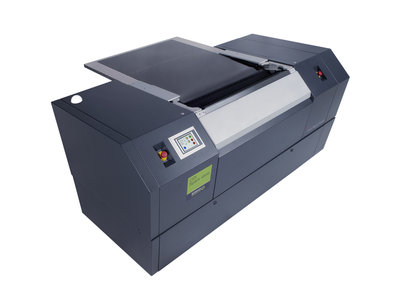 Manchester-based repro house, JFM Plates, is investing in more platemaking capacity with the addition of a second Esko CDI Spark 4835 with HD Flexo, taking the total number of CDIs to three. This is complemented by a DuPont Cyrel 1000P exposure unit and plate processor; both systems are capable of producing plates up to 1200 x 900 mm.
For colour managed proofing, the company uses the StarProof solution on an Epson 9900, and for clear and metallic substrates the WT7900. Its in house studio is fully equipped with a suite of Esko software, including Automation Engine, PackEdge, DeskPack and Studio Toolkit for flexibles, labels and boxes.
Mark McKee, general manager, said, 'With these new high quality investments, we are increasing our platemaking capacity by as much as 70%. Our aim is to attract more clients in the growing flexible packaging market, and with the addition of HD Flexo, we are confident that we can offer the high quality that customers demand.'
The company was founded in 1979 by John McKee and remains a family owned business.