'Clean' slitter rewinder installed by Worldmark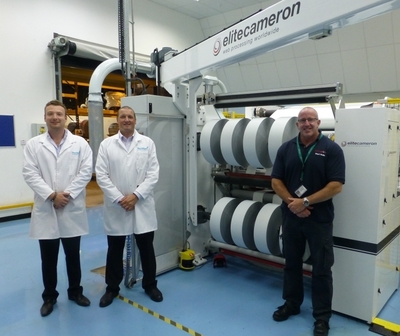 (L-R) The CW800 with James Self, Gary McLeish and Boyd Wyllie, Worldmark global process and quality manager
Worldmark Material Sciences has invested in a new 'clean' slitter rewinder for the conversion of its security laminates from the manufacturer of Elite Cameron slitter rewinders. 
The machine was recently installed in the company's Glasgow facility to increase productivity and quality of a wide range of high specification laminates.
'The new slitter has enabled us to guarantee finished reel stock quality and cleanliness that is required for high quality printing,' said Garry McLeish, operations manager. 'We selected most of the options available to reduce set up time as we run many different products every day.'
The CW800 slitter rewinder was developed to slit and clean substrates for printing, medical and food grade applications. The ergonomic design has a dual-sided Teknek contact web cleaner after slitting to keep the web clean.
'We have supplied this model to many medical companies but this is our first unit with a dual-sided, contact web cleaner after slitting,' said James Self, sales engineer. 'We have worked closely with Teknek to incorporate its XWCH3 cleaner, while minimising the slit web length to the rewind.'