Italian converter chooses electron beam technology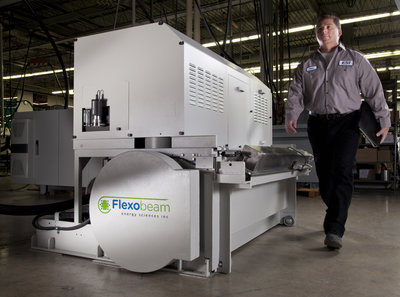 Flexobeam EB curing technology from ESI
Poligof SpA, a leader in the Italian converting industry, has installed a new Uteco Onyx 810 fitted with electron beam (EB) curing from Energy Sciences Inc (ESI).  
The new wide web flexo press will be printing flexible packaging film at speeds of 450 m/min, while operating on a solvent-free, sustainable platform. The inks are solvent and photoinitiator free, and of a higher concentration, which means lower volume anilox rollers are used thereby reducing the consumption.
Poligof management said that EB technology will give them the means to meet the ongoing market challenges to improve quality while addressing customers' demand for sustainable products.
With a printing width of 1600 mm and a printing repeat of up to 1100 mm, the press also comes equipped with SprintWash, viscosity control, print precision control Kiss & Go, and Uteco's patented Thermilox system, which preconditions the ink to the correct temperature for printing and maintains the heat throughput the process. The temperature can be set independently for each colour group.
The partnership between ESI and Uteco will also see ESI's Flexobeam EB technology installed on a CI flexo press at Uteco's new ConverDrome Centre of Excellence in Verona, which is due to open end of October this year.