Output capacity to double at Alpha-Cure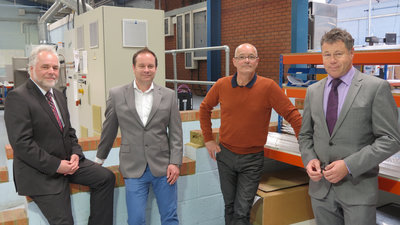 The founding partners of the company: (L-R) Karl Baier, Mark Slater, Shane Atherstone and Steve Haines
Alpha-Cure is reporting an increase in orders and will be doubling production output capacity this year by commissioning an additional high-tech vacuum furnace at its UK headquarters and production plant.
Steve Haines, CSO and co-founder, stated, 'We are very excited about the growth we are seeing in sales as more and more customers come to appreciate our offerings. We are committed to expanding our production output here at our UK manufacturing plant to ensure that we don't disappoint our local UK customer base.'
Despite the increase in orders, the UV lamp manufacturer is keeping to its standard 20-day lead times with some customers orders fulfilled overnight from on-the-shelf stock. The company furthermore offers dual-source manufacturing having established Alpha-Cure Asia in 2005. This new venture doubled production output capability, facilitating 24 hour sales and dispatch from two manufacturing sites on both sides of the globe, one in the United Kingdom and one in China.
The UK plant is run by Richard Cherry, who has more than two decades of experience with fellow UV lamp manufacturer, Heraeus Amba. The Shanghai production plant is spearheaded by a dedicated R&D department and employs six members from the UK technical team, including co-founder and CTO Shane Atherstone and general manager Keith Baldwin (former managing director of UK lamp manufacturer Primarc Ltd). The 40,000 square feet production plant in Qingpu, Shanghai, has seen large investments focused on building the latest manufacturing equipment and a brand new R&D laboratory.
With insight and leadership by industry UV expert Richard Cherry, Alpha-Cure is continuing to invest in its UK production plant, both internally with equipment upgrades and externally with a new fascia face lift. Mr Cherry explained, 'We are going through a very exciting stage in upgrading our facilities. This will give us increased productivity, improved manufacturing control and better customer response, due to the reorganisation according to 'lean' principles across all areas of the business.'