Sandon Global becomes Nilpeter preferred supplier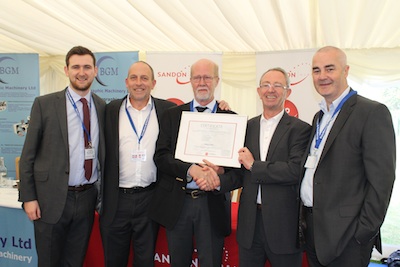 (L-R) Richard Millington (Sandon), Nick Hughes (Nilpeter UK), Steen Thøisen (Nilpeter), John Millington and Stuart Mitchell (Sandon)

Nilpeter has awarded Sandon Global preferred supplier status at the Nilpeter Technology Center in Denmark and throughout its European operations, having conducted a series of extensive tests and evaluations of Sandon's anilox rollers over the past six months.   
The Danish press manufacturer stated that it continuously strives to supply its customers and partners with the optimum value for money solutions, including all supporting components of printing.  
The tests and trials of the aniloxes measured, amongst others, the density consistency at different speeds, ink spitting, pinholes and opacity in white ink laydown, overall build quality and mottling/smooth ink laydown.
The certificate of preferred supplier status was presented to the Sandon Global team during the RotoMetrics 'Evolution of Print' event held this week.