Whisky brand launched at Labelexpo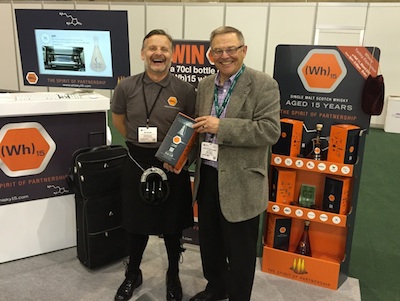 Our very own columnist and FlexoTech Awards' judge John Bambery of BPIF labels (with Jim Davies of Reprobrand) sampled the delights of WH15 Scotch whisky

Under the heading 'the spirit of partnership', a number of suppliers took a slightly different approach to showing their capabilities at Labelexpo. This came in the form of a new whisky brand namely the WH15 Single Malt Scotch Whisky made by Loch Lomond Distillery and brought to life by a collaboration managed by JFM Plates and Reprobrand.
Originally the idea to show a new product complete with branding and high quality packaging came from Lukasz Szymanski, Esko Artwork Product Specialist at Digiprint in Poland, and the 15-year-old whisky was on display and could be tasted in the Smart Packaging Lab as well as seen on partner stands at the show in Brussels.
The companies involved also included Amorim Top Series, API Foils, DS Smith, Esko, Evolve Creative, Flexo Concepts, Innovia Gilms, Mark Andy and Stölzle. Many of the companies had already worked together on another collaboration project with great success (see http://tiny.cc/2mvl4x).
Jim Davies, client relationship manager at Reprobrand, said, 'We've had a fantastic time here at Labelexpo launching WH15. It has been a lot of hard work to ensure that this project was successful, but we had no doubt that it would be, given the partners involved.'
Phil Baldwin, Europe aftermarket director at Mark Andy, said, 'Our first collaboration won the EFIA Award for innovation, and for us, it is great to work with other industry leaders to bring business-responsive technologies to our customers so they can stay at the forefront of the market.'