Siegwerk presents new range of sustainable inks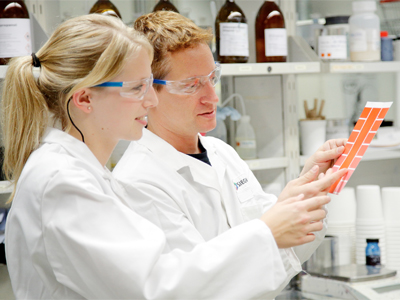 The Siegwerk research and development team
A new ink range developed by Siegwerk, incorporates renewable, forestry-based components for water-based flexographic printing applications.
Siegwerk has launched its second generation of sustainable water-based inks for paper and board applications. UniXYL is partially based on natural resins and provides an environmentally friendly alternative to conventional inks. 
Aqueous inks have grown in popularity and demand and are characterised by low VOC (volatile organic compounds) emissions and lack of flammability, making it easier to comply with relevant regulations. The company combines this technology with a basis of renewable components. The bio-based resin contained in UniXYL inks is obtained from lignocellulosic bio-mass, which is available in particular feed stocks from forestry. 
'As one of the leading ink manufacturers, we want to set a good example and champion the development of eco friendly inks. At the same time, we have tried to reduce the bio-mass obtained from food or feed plants, which we have now achieved with UniXYL,' explained Pierre-Antoine Noirot, vice president of the Global Innovation Network at Siegwerk.
'UniXYL provides excellent printing results with outstanding colour strength, great print quality and good rub resistance at stable viscosity,' said Mr Noirot. This printing ink range is suitable for paper and board applications, including those intended for food packaging. It complies with current product safety regulations, such as the Swiss Ordinance. The ink has successfully completed several beta trials under industrial conditions at customers' printing facilities. 
Christiansen Print Garanciéres, formerly France Flexo, a preprint specialist for corrugated board applications, was one of the companies that tested the new ink series. 'Operating at the highest standards also means testing new printing solutions that meet future expectations and in particular address customers' desire for fully renewable packaging. Sustainable processes and eco-friendly materials play an important role in this regard,' said Nadine Rodrigues, general manager at Christiansen Print Garanciéres. 'We've tested UniXYL recently, and the inks provided excellent print quality, good colour flow, fantastic colour strength, as well as efficient machinability.'