Rotoflex expands Canadian facility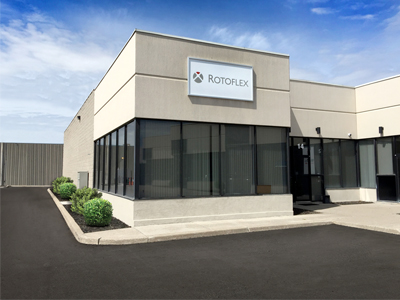 Rotoflex's new, larger facility.
Provider of offline finishing along with inspection and rewinding equipment, Rotoflex, has moved its Canadian regional facility to a larger, new 12,000 square ft building near Toronto.
The expanded capacity brings an in-house showroom for live machine demonstrations and a technology centre for increased on-site engineering development and service.
Rotoflex is headquartered in St. Louis, Missouri, USA, with regional demonstration facilities in Canada, Poland and the UK, in addition to sales and distribution offices worldwide.
Kevin Gourlay, vice president of Rotoflex, said, 'This new facility was a necessary expansion to provide more local resources to the team based in the Toronto area.'
'A key advantage we offer customers with existing Rotoflex machines is the option to retrofit or rebuild with our latest technology advancements', commented Manohar Dhugga, Rotoflex director of engineering and service. 'Our first rebuild has been completed in our new Toronto technology centre with great success, thanks to the extra capacity to accommodate machines, tooling, and workspace.'