Flint Group introduces new thermal plate processing technology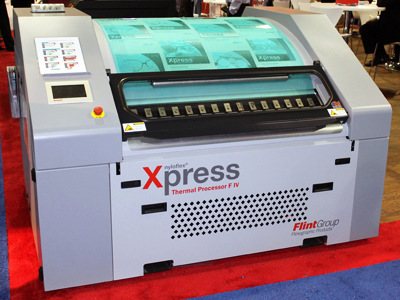 The nyloflex Xpress Thermal Processor, seen here at Labelexpo Americas 2016
Flint Group Flexographic Products' new nyloflex Xpress thermal processing system for flexographic printing plates has been designed to marry the speed of thermal platemaking with plate and print quality.
'The key to this advancement in thermal plate processing is with the unique heating system which precisely monitors the heat at the surface of the plate,' said Rich Emmerling, technical director. 'The tight control of the surface heat delivers outstanding dimensional stability of the plate's backing without the assistance of a drum chiller. The resulting processed plate's image quality provides a significant reduction in the size of the first printed dot as compared to current thermal plates on the market.'
The processor's zoned heating system is built around an IR assembly, which monitors heat distribution across the drum width and into the plate. The controlled heat imparts better dimensional stability to the plate backing, giving increased stability and consistency to the plate processing, and also eliminates the need for a chiller.
The system's nyloflex XPH and XPM0 digital printing plates have been developed to print on paper at high line screens of 200+ lpi. The XFH flat top plate (soon to be released) offers the option of printing solids onto film substrates. The thermal plates will be suitable for use with a solvent-based, water-based or UV ink system.
The processor's machine interface, or HMI, employs a touch screen panel and runs Window CE. Additionally, the HMI contains operator training videos and is wi-fi enabled for remote diagnostics. The thermal processor is also equipped with a visual indicator and an audible alarm that sounds when plates are ready to eject, allowing operators to perform other tasks while the plates are being processed. 
The new processor has fewer components, reducing maintenance, downtime and operating costs, and Flint Group offers a waste recovery programme whereby all consumables used in the system, including plates, can be picked up and routed to a waste to energy facility or recycled where available. 
The company debuted the equipment at Labelexpo Americas 2016. The system is currently available in North America, and will be offered in other regions in the second half of 2017.