Xeikon to hold café events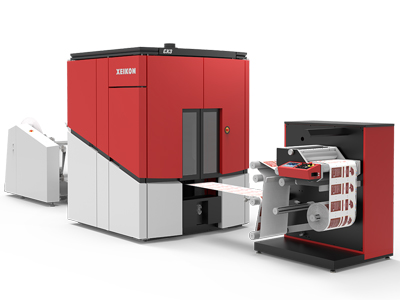 The Xeikon CX3 press 
Xeikon will bring its Labelexpo Americas showcase to Europe and demonstrate its complete folding carton production suite in the form of two cafés, held on 5 and 6 October.
The first of Xeikon's cafés will be centered around the company's showcase for this year's Labelexpo Americas, where it demonstrated an entry-level label production line centered around the Xeikon 3030 label press and the newly introduced Xeikon LDU (Laser Die-cut Unit). For the first time in North America, Fusion technology was demonstrated inline with the Xeikon CX3 press (aka Cheetah). 
Xeikon's customers were centre stage during Labelexpo Americas: the new Xeikon CX3 users Accu-Label Inc and Action Packaging testified about their investments. Action even announced the purchase of its second CX3 press.
The second initiative is a Xeikon café dedicated to folding carton applications, a strongly growing business as packaging producers are looking heavily into digital manufacturing techniques for shorter runs and brand protection reasons. During this cafe Xeikon will demonstrate its complete folding carton production suite centered around the Xeikon 3500 digital press and the Xeikon FDU (Flatbed Die-cut Unit) which was introduced during drupa, earlier this year. The demos will be topped off with a rich conference programme addressing a variety of topics of interest for folding carton producers. 
Both events take place at Xeikon's HQ in Lier, Belgium. Registration and participation is free of charge. For more details and to register:
Labelexpo revisited (5 October): go.xeikon.com/LE16
Folding carton applications (6 October): go.xeikon.com/FC16