Eti.Vibra buys Omet iFlex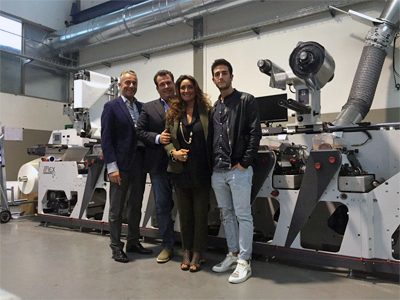 (L-R) Enrico Gandolfi, Omet's Italian sales manager with ETI.Vibra's owners, Vincenzo Brancaccio, Silvana Amoruso and their eldest child Renato
Italian printer Eti.Vibra has carried out successful testing of its new Omet iFlex 370 mm press at Omet's headquarters in Lecco, Italy.
The decision to move towards mixed technology with flexographic printing, cold foil and other finishing applications was based on increasing market requirements. The new press will help the Campania-based company to consolidate its presence and expand its production capability.
The deal between Enrico Gandolfi, Omet's sales manager for Italy, and Mr Vincenzo Brancaccio and his wife Silvana Amoruso, the owners of Eti.Vibra, was finalised at Labelexpo Europe 2015, during a meeting at which the future generation of the company (all four children of the Brancaccio family) were present.