Demystify the hype around digital production at Xeikon Café 2017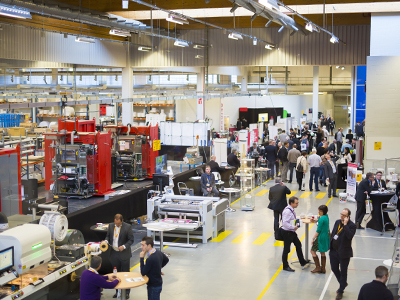 Scheduled for 28 to 31 March 2017, the third edition of the Xeikon Café will be extended to four days instead of three, reflecting global growth and interest.
Driven by high quality content and an interactive format, Xeikon Café offers first-hand, actionable information and advice on industry innovations and trends. The 2017 edition will offer a strong conference programme with a focus on key innovations, technical aspects, and business education.
'The intention is to give information about the industry that is easy for attendees to take in and understand, and to have a practical dialogue so visitors can get the most out of the event,' said Filip Weymans, VP marketing at Xeikon. He continued, 'A range of live demonstrations will be run, for a variety of labels and packaging that are also clustered into vertical sectors. For example for pharma where labels, lightweight leaflets and cartons will be produced with features including track and trace, or anti-counterfeit capability. In the beverage sector this could be wet glue, self-adhesive and wraparound labels, drink cartons and liner for a corrugated wine box producer, or for soft drinks or spirits. We are broadening the range of the solutions on show, also in confectionery, DIY, automotive and even in media, where we see Xeikon users producing vinyl record sleeves.
'There will also be a business and technical conference programme running, and a series of open panel discussions toward the close of each day where key trends will be covered – like a Talk Show,' explained Mr Weymans. 'Hence the Café theme, we encourage open dialogue following the model of the discussions held in cafés across Belgium for many years.
'A big difference will be the scale of the 2017 Xeikon Café.' he continued. 'We are planning for many more attendees, and we are extending the number of applications on show to over 20 different ones in labels and packaging including cartons, pouches and even corrugated – fully from concept to production. Some are quite innovative and will demonstrate how digital production can be beneficial also in new emerging market segments.' 
The Café is again hosted in collaboration with Xeikon Aura Partners. Taking part to showcase integrated solutions are: AB Graphic International Ltd, Actega Terra GmbH, Advanced Track and Trace, AGFA Graphics, Argos Solutions, Avery Dennison, AVT, Bograma, Brotech Graphics Co., Ltd, Cartes, CERM, Diamond Photofoil Limited, Esko, Flint Group Narrow Web, Flint Group Sheetfed, Grafisk Maskinfabrik, Grafotronic AB, Highcon Systems Ltd, Hybrid Software NV, Iggesund Paperboard, Label Traxx, Lake Image Systems Ltd, Meech International, Metsä Board, Michelman, OneVision Software AG, Rietstack, Scodix, Smag Graphique, Stora Enso, Treofan Germany GmbH & Co KG, Tresu Group, Tronics, UPM Raflatac, Xeikon, Xeikon PrePress (ThermoFlexX), Yupo Europe GmbH and Zünd Systemtechnik AG.
Mr Weymans concluded, 'Working together, all partners of the Xeikon Café will show off what can be done by fully integrating solutions. I'm sure that will open the imagination of the attendees and challenge their perceptions.'
This article is an advertorial; the featured company created the wording and paid for its placement. It has been thoroughly checked by Whitmar Publications to ensure that the information is accurate and meets our standards.