Toyo develops VOC-free EB-curable flexo inks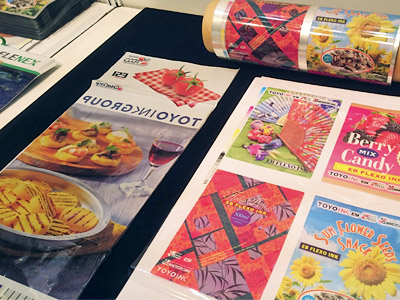 Japanese company Toyo Ink Co has developed an Elex-one series of EB (electron beam) curable flexo inks that are completely VOC-free for food-safe flexible and carton packaging applications.
Due to increased environmental/ safety concerns and regulatory requirements, demand for VOC- and CO2-reducing technology and water-based flexo and EB-curable flexo has been gaining momentum in North American and European markets.
'Many of the EB flexo inks out on the market today contain small traces of solvent that is chemically added into the ink during the curing process,' explained Katsumi Yamazaki, president and CEO of Toyo Ink. 'The Elex-one series was specially formulated by Toyo Ink engineers to cure using only EB irradiation – without the addition of a volatile component. As a result of this, we are able to offer a completely VOC-free solution.'
EB flexo inks do not evaporate or volatilise on the printing press, so the ink does not change in consistency during processing. Since ink curing does not occur on the plate, stable print quality can be achieved even over long runs. In addition, EB inks are highly safe from chemical migration in that its composition is free of solvents or photoinitiators, making it a non-hazardous material suitable for use in food packaging materials and sanitary products.
Elex-one is currently undergoing trial testing for the European market. Once approved, Toyo Ink plans to begin the commercial release of the product in the region.