New PureTone FPC products launched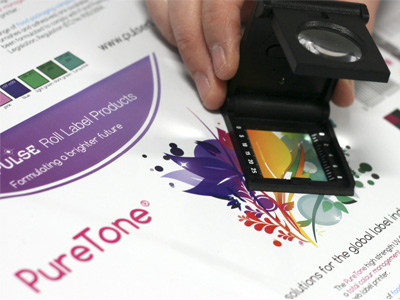 Pulse Roll Label Products has announced the global launch of its PureTone food packaging compliant (FPC) UV flexo ink system, which is complemented by a new range of other FPC UV flexo products formulated for the food label market.
'Following the success of our PureTone ink system, the next step was to look at evolving it to develop a food packaging compliant alternative,' explained Mikaela Harding, product manager. 'PureTone FPC is based upon the original PureTone concept; a high strength UV flexo ink range supported by X-Rite's InkFormulation Software, in conjunction with pre-press proofing to provide a total colour management solution. Companies involved in the printing of packaging and labels for industries such as food, pharma, health, personal care, cosmetics and tobacco products can now benefit from all these advantages.'
Intended for non-direct food contact labelling and packaging applications, PureTone FPC includes a high strength process series (including process inks which enable the printer to achieve ISO 12647-6) and a mono-pigmented mixing base scheme for accurate colour matching. Label printers benefit from optimised colour strength which allows lower film weights, increased press stability and complete pre-press colour control through digital ink management. PureTone FPC is suitable for shrink films as well as general label printing, with excellent adhesion to a wide range of substrates including coated papers and films.
To complement the new PureTone FPC UV flexo ink system, a food packaging compliant shrink sleeve opaque white, backing black, high density black and a selection of metallic inks are also available. New food packaging compliant varnishes, adhesives and additives include gloss, satin, matt and ultra matt varnishes; the company's peel and read release varnish and laminating adhesives. All FPC UV flexo products have been formulated to comply with the regulations and guidelines for non-direct food contact packaging applications. 
The new food packaging compliant range of products has undergone extensive beta testing at multiple label printing sites both in the UK and in selected international markets.
'Pulse Roll Label Products is a fully engaged partner in the food packaging supply chain,' stated Gary Seward, managing director. 'We are pleased to now introduce PureTone FPC, the next evolution of our flagship ink system, into the global label market, in line with the very latest guidelines issued by EuPIA concerning Good Manufacturing Practice.'