Secura Labels powers forward with Proflex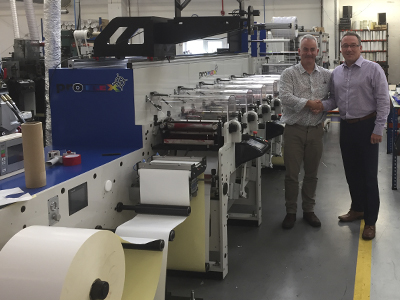 Simon Miller, MD, Secura Labels (L) and Antony Cotton, sales manager at Focus Label Machinery
Derbyshire-based Secura Labels has purchased the latest six-colour, full UV Proflex 330E flexo press from Focus Label Machinery to produce self adhesive labels and increase efficiency and productivity.
The Proflex E is a precision lineshaft driven, modular press available with print widths of 250mm and 330mm and a variety of optional drying systems, including full UV, LED, Infra-Red – or combination drying systems, with optional chill rolls for heat sensitive substrates.     
The open architecture design of the print stations enables top loading of print cylinders, whilst interchangeable print cartridges can be partially or fully unloaded and exchanged, in order to maximise productivity and minimise downtime. Bearer rings are incorporated into the print cylinder assembly for accurate print impression settings, regardless of substrate. 
As well as flexo print heads, there is also a facility to accommodate optional full colour, or single colour, digital inkjet system, for short run and variable data requirements.
As standard, the new Proflex E is equipped with touch screen HMI operator interface panels, for all press control functions, plus storage of job information for future reference.
To assist with accurate flexo platemounting, Secura also purchased the newly designed Focus Platemate two-video platemounting system with twin digital cameras and high resolution colour LED monitor.
'This is our third purchase of a Focus press and will represent a big leap forward for us in terms of productivity and flexibility,' said Simon Miller, managing director of Secura. 'Our business has grown rapidly in recent years and we needed to increase our efficiency and capacity.'
'Secura Labels has been a good customer of ours for many years, so we are very pleased to continue this successful partnership with the installation of the new Proflex E press,' commented Antony Cotton, Focus sales manager.