Gallus ECS 340 sold to ETPA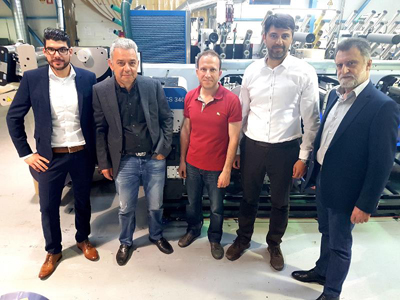 (L-R) Antonios Kampouris, Gallus; Giannis Drenogiannis, CEO ETPA Packaging; Giannis Sfatkidis, production manager ETPA Packaging; Sakis Athanasiadis, Heidelberg Greece; and Nikos Diamantis, Heidelberg Greece
Greek label printer ETPA Packaging has installed a Gallus ECS 340 press at its production site in Komotini, north eastern Greece.
The company, which is headquartered in Athens, was founded in 1983 and has set its focus on self-adhesive labels, shrink sleeves and flexible materials. To offer customers the best possibilities when selling labels, George Ekonomou, sales director, decided to invest in a Gallus ECS 340 press.
The machine consists of nine flexo printing stations and four screen printing modules and is further equipped with a cold foil unit as well as the option of reverse printing on glue, UV lamination for monofoil material and PS lamination.
ETPA Packaging are producing labels, sleeves and sachets on the new press. 'This is the first Gallus we have bought, but we are more than happy to have invested in a Swiss quality product. The machine's versatility is astonishing and the labels, the most important factor, of course, are of impressive quality,' said Mr Ekonomou.