Mark Andy launches Digital Series HD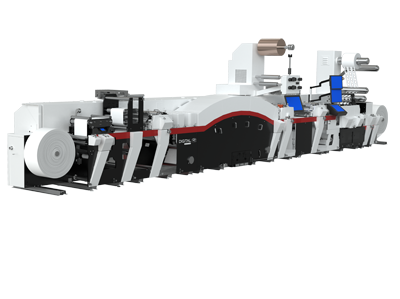 Digital Series HD is the latest hybrid from Mark Andy
A suite of enhancements to Mark Andy's Digital Series platform has resulted in the release of Digital Series HD, which can be configured with five through eight digital colours, supporting integrated inline or future proofing near-line converting options.
The base roll-to-roll configuration is designed for those just entering the production digital space. As digital business expands, the modularity of the platform enables the shift to inline finishing to better utilise the high-speed platform.
Expanded gamut now offered in a high-chroma ink set (CMYK + OVG) complements an existing richly pigmented white ink formulation, which delivers output comparable to rotary screen. Mark Andy product development reports the ink provides three times the opacity of flexo white and more than double that of conventional EP white, measured in excess of 80%. Digital white can be run without trade-off in speed at the platform's standard of 240fpm. 
The most notable alteration to the Digital Series HD press comes in the form of the digital module. Once a flat table section, the new platform now showcases an arched IDS that accepts unsupported films and improves operator ergonomics, enabling quick and clean ink changeover.
A variety of cleaning options – manual, automatic, and semi-automatic ­- translates to less downtime and reduced costs. Additionally, the platform offers a more advanced VDP tool for sophisticated personalisation.
Tom Schelmbauer, VP of Engineering, commented, 'The Digital Series platform was already incredibly successful, evidenced by our 2017 FTA Technical Innovation Award. This series builds on these successes and delivers the highest quality, most productive hybrid solution on the market.'