Guinness experts join FINAT's European Label Forum 2018 speaker line-up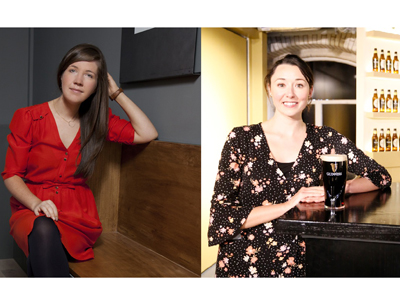 (L-R) Kathryn Wilson, design lead, and Emma Rochford, global marketing manager, Guinness
FINAT is proud to welcome two experts from renowned Irish beer brand Guinness, Emma Rochford and Kathryn Wilson, to its speaker programme for this year's European Label Forum, 6-8 June, Citiwest Hotel, Dublin. 
Emma Rochford is global marketing manager for Guinness. She has spent the last five years working for Diageo in London working across Diageo's beer and spirits portfolios and has held account roles for Tesco, Morrison's, Co-op amongst other leading on and off premise customers.
Kathryn Wilson is design lead for Guinness and Baileys at Diageo. She was previously creative director at Slater Design. Ms Wilson has worked as a graphic designer in agencies in both London and Dublin – including Creative Inc. and The Brand Union.
Commenting on the latest addition to the programme, FINAT managing director Jules Lejeune said, 'Guinness is one of the icons of our hosting nation's capital and, together, with the other brands of the Diageo family, one of the leading customers of the labels and narrow-web packaging industry. I am sure that our members will be very eager to hear what's on Diageo's mind when thinking of labels and packaging, what they see as trends for the future, and what they expect from a labels and packaging supplier. Given Emma's and Kathryn's track record they are well positioned to give us their informed insights.'