Colordyne and NAStar partner up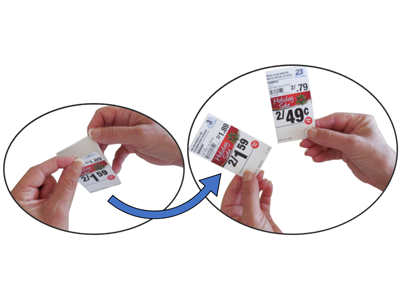 The partnership allows for a roll of TwoFer Shelf Tag material to be duplex printed in a single pass
To simplify the process of producing retail shelf tags, Colordyne Technologies and NAStar have partnered to provide a new, lower cost solution.
Combining digital printing expertise with innovative adhesives and materials, this partnership allows for a roll of TwoFer Shelf Tag material to be duplex printed and finished in a single pass.
The TwoFer Shelf Tags use an alternating adhesive and release coated pattern. 'It's essentially two tags for the price of one compared to traditional shelf tags,' said John Short, marketing director of NAStar. 
A tailor-made version of Colordyne's 3600 Series UV Rotary Pro provides duplex print capabilities in one pass. Printed tags are then finished with in-line slitting, die cutting and shingling to create custom, back-to-back shelf tags.
'With the short run, variable data capabilities needed for this type of application, digital print is the only economical solution,' said Taylor Buckthorpe, vice president of sales and marketing at Colordyne Technologies. 'Together, we've developed a single-pass shelf tag production system that gives twice the throughput. This is the only all-in-one solution of its kind on the market.' 
Mr Short added, 'Bringing production in house allows the retailer to control the entire process and with the cost savings the TwoFer Shelf Tag allows, the return on investment for the equipment is drastically expedited.'
First installations are expected prior to the end of 2018.