The additional digital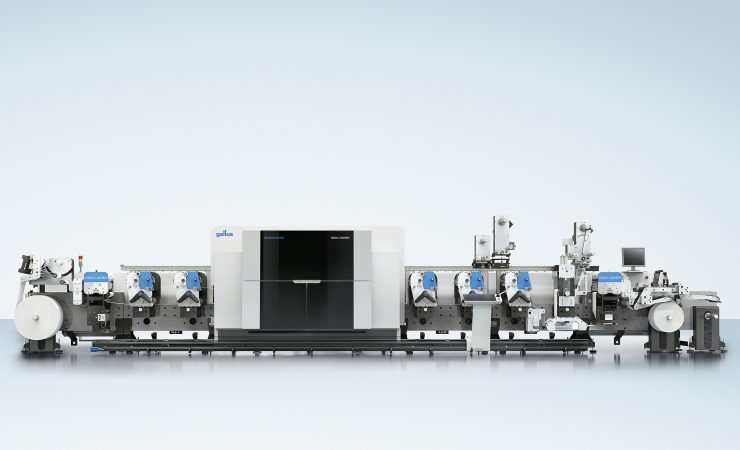 Gallus' Labelfire 340, designed to print on an industrial scale 24/7
In the modern marketplace flexibility and efficiency are at a premium, and if one device can combine the advantages of both flexography and digital printing, then companies are going to pay attention. By Charlie Kortens
Hybrid presses are intended to bring together the best of flexo and the best of digital. This sounds good on paper, but what are the actual selling points of the technology? Omet's Marco Panzeri, product manager for hybrid, puts it rather succinctly, telling FlexoTech, 'Hybrid means you can compensate for the limits of one technology using the advantages of the other.'
Phil Baldwin, sales manager at Mark Andy, explains that, 'Single pass is one of the main benefits. Some very short runs will still be more beneficial being finished offline but as digital run lengths grow, single pass becomes far more profitable and gives a faster turnaround. You have a single process and a single operator.'
Søren Ringbo, general manager for digital products at Nilpeter, put in, 'I think it's actually about the limitations of the two technologies individually. Even though the gap between digital and flexo is getting smaller, there are still things which can only be reproduced in one of the technologies, like variable data in digital and some spot colours in flexo. It is not so much about getting the best out of flexo/ digital but finding a balance between the two. The most successful hybrid installations I have seen are customers who are able to combine digital with flexo and generate designs or workflows which are unique. It is not a selling point to 'get two in one' because the investment doesn't justify changing between digital jobs one day and next day print flexo.'
So far, so good, but are there any benefits of flexo or digital that cannot yet be integrated into a hybrid press? 'At Gallus, we offer all processes that make sense in combination with digital printing,' insists Matthias Marx, the company's head of marketing. 'This includes pretreating the substrate with primer, laminating and varnishing units, screen printing and cold foil processes for embellishment and rotary and semi-rotary die-cutting units to finish the label.'
Focus Label Machinery's sales manager, Anthony Cotton, agrees, 'Flexo can do pretty much anything apart from variable data/imaging. Digital fills this gap and adds short run flexibility.'
Bobst's Patrick Graber, strategic marketing manager for narrow-mid web, says, 'For some very unique applications, especially driven by the type of substrate or the type of ink, you may need a unique technology. Ultimately you could design a sixcolour flexo machine with a digital
printing unit including priming and finishing. On such a press, you could then run all kinds of jobs: pure flexo, pure digital and combined technologies. We are, however, not convinced this is the best way. If you need six flexo stations, you probably need a dedicated flexo press.'
Surely there are some limitations when it comes to hybrid presses though? As far as Mr Baldwin is concerned, 'About the only limiting factor will be the speed of the digital engine. The flexo side can achieve speeds that exceed the current abilities of digital engines.'
Mr Ringbo adds, 'No chain is stronger than its weakest link. And this counts for hybrid presses as well. If you put a digital module into a flexo press it will limit the speed (at least when you print digital). And if you print pure digital it is print on demand. In principle you could do both on a hybrid press but you will not get the full benefit of combining the processes. And here I am not only speaking of combining digital with flexo but also adding different embellishment processes in-line, analogue or digital.'
Mr Panzeri put in, 'Generally speaking, what you can print digitally, you can also print on hybrid, because the digital engine is the same. On the other hand, the conventional part is more of a compliment to the digital unit, so it's not exactly like having a fully-fledged flexo press with all its benefits.'
Mr Graber suggests, 'If you want to do it all, it won't work. The label industry requires multiple technologies and successful label converters typically have multiple technologies in house. What a hybrid press does, is to integrate the most popular requirement in one integrated workflow and it will probably satisfy 90% of the job requirement.'
Going forward
In such a fast-moving sector, what are the trends that companies are keeping an eye on? Gallus' Mr Marx stresses, 'Easy handling of the press and a high degree of automation, like automatic cleaning systems or an automatic vision system to prevent white lines and density unevenness. When it comes to print quality, we are convinced that 1200 x 1200dpi will become standard.'
Focus' Mr Cotton suggests, 'label embellishment, linerless labels, pouches and food-safe inks and toners' are the areas to watch out for.
According to Mr Panzeri, 'consumers want the process to be as automated as possible because they want to limit downtime due to set-up and start-up, to exploit the benefits of the digital unit.'
Mr Baldwin believes, 'Further integration to MIS systems with JDF and JMF for instructions and data capture/job reporting is now pretty much a 'must.' Automation continues to grow and will do over the next years for repeatability and ease of use.'
Nilpeter's Mr Ringbo concurs, explaining, 'Automation is important. The demands for more sustainable production are increasing! So, waste of materials and energy has to be minimised. And only through a higher level of automation these demands can be met. Printing quality is not so much a topic anymore as both digital and flexo can reproduce market demands today. But demand for differentiation and quality from the market forces the printers to think more innovatively, which is an opening for hybrid printing. Also, ability to shorten supply chains (print only what you need, when you need it) is a strong demand from brand owners. This is obviously also driven by the sustainability megatrend.'
Whilst they had their crystal balls out, we asked each of our contributors whether they expected the number of hybrid installations to keep growing and, if yes, just how big the hybrid market could grow. Unsurprisingly, all of them were very optimistic.
'Hybrid inkjet will continue to grow and grow as run lengths continue to decrease and the number of SKU's continue to increase,' said Mr Baldwin. 'Costs are one of the areas that can lead to hesitation with inkjet but as the whole market segment grows prices will reduce over time, just as they did with electric cars. At first, they were expensive and elite but as their market grew the prices came down and availability and choice grew. I would say, though, that digital hybrid will not replace flexo but sit alongside it in the narrow to mid-web market.'
Mr Cotton added, 'Will the market continue to grow? Yes. How big might it get? That's difficult to say. In terms of what might prevent it from growing
further…I'd say the relatively high cost of capital equipment compared with roll to roll digital and off-line finishing.'
For his part, Mr Marx suggested, 'The market for hybrid presses is still growing and this trend will continue in the future. The reason is that the average runs size of embellished labels is getting smaller and the productivity of highly automated hybrid presses is constantly increasing.'
Omet's Mr Panzeri attributes future growth to 'manufacturers improving their solutions, more installations making hybrid appear more attractive generally,' and digital for medium runs being 'the next logical step.'
Mr Graber mentions, 'Market trends and industry dynamics suggest a shift towards hybrid/all-in-one solutions. Over the last few years, we have observed almost all digital and analogue manufactures introducing or expanding their product portfolio with hybrid solutions. The challenges of improving delivery times, higher cost-efficiency and more versatile manufacturing solutions pushes the market to solutions that address these pain points. Converters are also solving operator shortages with all-in-one solutions as it reduces production processes.'
Finally, Mr Ringbo concludes, 'The number of hybrid presses in the market will grow for sure. Labels and digitally printed labels are still a growth market and this will obviously also affect the hybrid press installations. But the growth rate will not be as high as in stand-alone digital presses. Smaller presses are lower investments and lower risks, and workflows are easier. But as small digital printers grow, sooner or later we will see them enter hybrid printing.
The challenge is still costper-print digital compared to flexo. It is costly to print digital whether it's hybrid or standalone. And this is probably the biggest block today. However, we see ink manufacturers investing big time in new and bigger productions which probably will drive prices down on digital inks in the future. When the cost between digital and flexo becomes more even, we will probably see new hybrids where digital will take over more of the flexo processes and with a higher degree of embellishments.'