Substance over style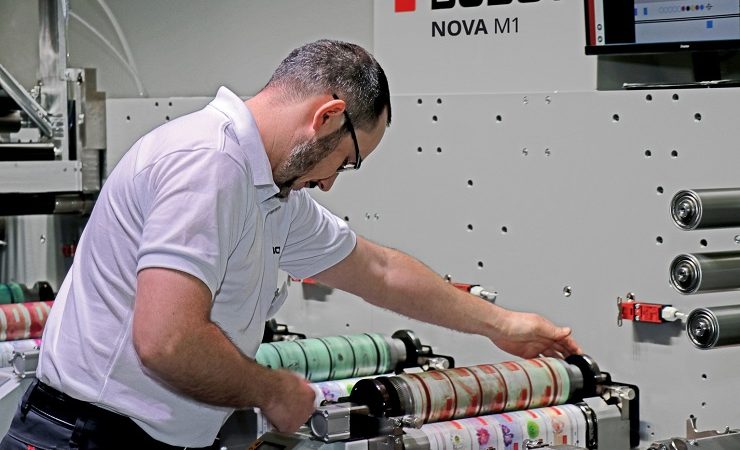 Press manufacturers naturally spend their R&D efforts and resources on pushing the boundaries of what flexo presses can do, but not all converters require state-of-the-art technology to meet their customers' demands. By Michal Lodej 
'Fit for purpose' is an important phrase in any business. In manufacturing, you need the machinery fit to provide what your customers are demanding, and while often this will push a company to the latest technology on offer, there are also times, when something simpler will do; or at least that's the question. There is a market for what I have termed, 'entry-level presses' but is this market made up of new start-ups trying to keep costs down while they grow or are they established businesses that just need that extra bit of capacity?
This was the question posed by FlexoTech to a range of press manufacturers. Antony Cotton, technical sales manager, Focus Label Machinery, answered, 'Well, it is a mixture of both, but also – many larger, more established companies will order a press with a simple configuration – for a particular, specific application – without the need for bells and whistles.' However, it seems there is a limit to how simple press can be in today's market, as Mr Cotton explained, 'Although we still offer non-servo presses, I would say that 90% of the presses we supply are now servo driven, four to six colours, with full UV drying – minimum web width 330mm.
'Ten years ago, a typical entry-level press might have been non-servo, four to six colours, 250mm wide with infra-red drying – plus a single UV dryer for varnishing. Today, an entry-level press is more likely to be servo driven, 330mm wide six-colour, with full UV drying.'
Plan B
Jakob Landberg, Nilpeter's sales and marketing director explained, 'There are sectors needing very simple jobs (four or five colours) for what we normally describe as Milk Labels.
'Our average FA-line machines are more complex than this – we begin with eight colours – and 12 colour flexo presses are not unusual. To this we add several other processes like rotary screen printing, gravure printing, hot foil and embossing, inline lamination – and converting like cross-over and die-cutting. These presses have a high level of automation – as a very efficient aide to the operators keeping control over so many processes at once.
'Our option in the more simple sector is the FB-line flexo presses, designed for straightforward self-adhesive labels. We do offer same optional embellishments – but the press itself is a genuine work horse. Especially in Asia and Latin America more simple machines are desired as they fulfil most requests. They are modular so our customers actually can 'grow' with their markets – and add options to the FB-line at a later state when customers grow into other markets. 'The ratio we see is say one to three in simple to complex presses, meaning we do three times more complex presses, than simpler. Value wise you get approximately four simple machines to one complex press.
'Our focus on all the products we deliver is to fit the customers market the best way – and ensure the leanest solution. We offer the lowest level of waste and setup time – the most sustainable results for label and packaging converters.'
Faced with challenges from Covid-19 and new national labour laws, Hansung P&I of South Korea acquired a new Nilpeter FB-Line to expand production capacity. 'These specific jobs require a complicated system integration and are unique in its kind. Nilpeter were able meet these requirements, and for that reason the Nilpeter FB-Line was a perfect choice for us,' explained Choi Youngchul, CEO of the Hansung Group. 'In addition, Nilpeter's application team really came through,' said Jung Won Joong, managing director of Hansung and its subsidiary company Dong Yang. 'We are looking forward to expanding with similar Nilpeter presses in the near future, and we are excited as well about possibly adding a Nilpeter FA-Line in our FMCG division,' concluded Mr Joong.
A place to start
You may think that an entry-level press is one which is old fashioned or out dated. But that does not have to be the case. The launch of the Evolution Series E3 in 2021 was a new milestone for Mark Andy in the entry-level sector of label converting. According to the company, its development followed extensive market research that showed a need for cost-consciousness combined with the flexibility to grow capability as market demand changed.
Based on Mark Andy's Performance Series technology and a simplified version of the Evolution Series E5, launched in 2019, the E3 essentially offers servo drive control for mechanical drive money. Designed to be a flexible all-rounder and available in 330mm and 430mm web widths, the platform is available with four or eight flexo print stations and an array of optional additions, although the E3 is fundamentally a prime label press in its simplest form.
However, the press still has a number of options as Phil Baldwin, sales manager at Mark Andy UK, explained, 'The E3's design does offer a high degree of flexibility combined with precise inking and impression settings and robust die-cutting options. Its advanced web handling and Oldham drive make for extremely accurate register control, and a short web path offers tangibly low waste levels that save money and reflect well on the bottom line, while fast and easy job changeovers ensure high productivity and keep expensive downtime to a minimum. The press also features the new servo infeed and exit system with constant tension and pretension for highly accurate web transport even during speed changes.
'What's interesting is the sector of the market to which it appeals. Once again, research showed the need for a low-cost entry-level press, but the reality is that for most start-up enterprises in the current climate, used machinery or simple digital technology is the preferred means of entry into label production, with a press like the E3 being aspired to in the second phase.'
For those with the investment resources available, such as those established companies that need a machine to free up capacity on their larger and higher configured combination machines, the E3 is still suitable as it has Mark Andy ProUV curing as part of its standard specification. This is a fully integrated curing system with power and air located on-press and within a single cabinet to maintain a small pressroom footprint.
Mr Baldwin concluded, 'Everything that I've said up to now highlights why it's difficult to define what constitutes an 'entry-level' or 'basic' label press, because the market is mature and becoming increasingly sophisticated. Go back 30 years or more and a three colour press with a seven inch web width was how many label converters started their business. Label life in the 2020s has moved on somewhat!'
Its nice to have a choice
According to Bobst, the type of customer that is looking for an entry-level flexo press can be split into two groups; those in the more mature markets, micro and small companies that are focused on medium to long run production of pressure-sensitive labels; and in the emerging markets, converters that are either new to flexo printing or are upgrading from a different technology, in most cases letterpress.
With relatively small profit margins in flexo printing, printers need to reduce waste, and be able to maintain productivity, consistency and quality day in day out. Short setups and a high degree of automation further support printers to meet demands for fast turnaround and delivery of jobs, with a very competitive price to performance ratio.
The Bobst NOVA M1 can print on paper and self-adhesive label materials at 180m/min. The fixed configuration has a width of 370mm and eight print stations, a die-cutting unit and cold foil come as standard, with an optional delam-relam unit that can print in one colour on the adhesive.
The Bobst VISION M1 is available in 370 and 430mm widths in multiple configurations according to the requirements of the customer. It can print on a wide range of label substrates as well as light cartonboard extending the market opportunities. With up to 10 print stations and either two or three die-cutting units, the VISION M1 can be set up to produce more complicated labels such as multi-layer peel-and-reseal coupon and booklet labels. The level of automation is also flexible with options to include Print Tutor cameras for fully automated register set-up and control, DigiGap automated die-cutting technology and Bambi advanced waste matrix rewinding for handling difficult label shapes.
At a lower investment level, customers can choose to go for a set configuration, which is 370mm wide version and has a smaller footprint. This is the VISION M1X, which has eight print units and one die-cutting station as standard but offers the same quality as the full version. It features Laser-Set pre-register system, Combo laminator and cold foil kit, and SnowBall waste stripping. It can be equipped with DigiFlexo technology for automated register set-up and control during production.