Digital has its uses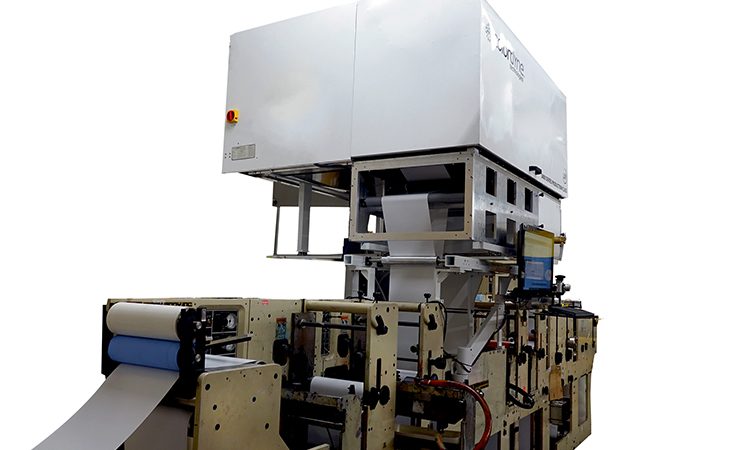 Nova Label in Cheverly, Maryland chose to install Colordyne's 3800 Series UV – Retrofit
Inkjet print technology is an area which is constantly improving. As the technology matures and improves in efficiency and productivity, we could see more and more flexo printers adding inkjet capability onto their presses.
One of the pillars of good customer service, is to never tell the customer 'no'. While sometimes a reply of, 'I'll look into how we can do that for you,' is sufficient, nothing can beat a resounding, 'Of course we can sir/madam.' So when it comes to adding variable data, versioning or customisation to a conventional print run, a digital print bar or inkjet engine, could be good to have in the locker.
Traditionally, a print bar may only be able to print in one colour while an inkjet engine can give you the full CMYK offering for something more impactful.
Colordyne Technologies manufactures digital inkjet print engines that can be mounted onto existing flexo equipment. This method provides label converters an alternative, and according to the company, is often a more cost-effective option for adding digital print capabilities to their businesses.
By mounting a digital print engine onto an existing flexo press already in their facility, printers make use of assets they already own, maintain full flexo press capabilities, and eliminate the need to hire additional press operators.
The company's most recent press installation was at Nova Label in Cheverly, Maryland. The manufacturer of quality pressure sensitive labels chose to install Colordyne's 3800 Series UV – Retrofit to produce more applications and offer customers affordable short-run capabilities. The quality, durability, and lower consumable costs of UV inkjet offer Nova Label a pathway to produce labels for markets like wine and spirits, microbreweries, and craft distilleries. The company can also provide necessary services like medium order quantities, multiple SKUs, and durable labels to these growing markets.
Alan Rich, president of Nova Label, said, 'Everyone is jumping into digital, and we couldn't find another product in the market that can compare to Colordyne's unique retrofit approach. The 3800 Series UV – Retrofit allows us to continue using our existing press and tooling equipment. Plus, it doesn't require additional floor space as it is mounted on top of our Mark Andy 2200 flexo press. As did our original water-based inkjet retrofit, the UV retrofit from Colordyne fits well with our inline converting production. We knew it was going to be the best upgrade solution and took advantage of it.'
Another customer of Colordyne's, G2 I.D. Source, uses a water-based dye inkjet retrofit to produce both digital and hybrid applications.
The company is a high-tech packaging solutions provider based in Jacksonville, Florida, that offers a range of services including wide format, car wrap, window graphic, and full-colour label printing.
G2 I.D. Source combines inkjet printing with traditional flexography to deliver the best possible label, at the lowest cost and in less time. This is accomplished by using low-cost flexo for static elements and high coverage areas while printing variable text and images with inkjet.
Terry Cochran, vice president of G2 I.D. Source explained, '[Hybrid printing] allows us to do so much more in less time. We are able to choose which combination between flexo and digital print provides the highest quality at the best price point for each specific job.' Hybrid printing allows G2 I.D. Source to satisfy customer needs including affordable versioning, high quality prototyping, and shorter lead times.
With many years of experience in producing integrated printing solutions – everything from print engines to production-ready multicolour print systems – Fujifilm is constantly evaluating its equipment and looking to evolve its product portfolio. Fujifilm's range of retrofitting solutions includes the SAMBA Mini 4300 imprinting system, and the 42K Printbar system.
The SAMBA Mini 4300 is configurable with one to four individually controlled printbars, providing single-pass printing in monochrome or process colour
for a wide variety of production applications, including: coding and marking, mail imprinting, variable data printing, printed electronics, and labels.
The 42K Printbar System is Fujifilm's newest addition to market for integrated inkjet printing. Launched in June 2021, following the popularity of the SAMBA 42000 Printbar System, this newer version offers additional features and functionality. The 42K Printbar System, on top of being suitable for direct mail and transactional imprinting, is also expanding into markets that include folding carton, corrugated packaging and other industrial applications. It is suitable as an add-on inkjet printer, or as an imprinting device for hybrid printing.
Stefan Steinle, European sales and business development manager, Fujifilm Integrated Inkjet Solutions, said, 'The system uses 1200dpi Samba printheads – delivering outstanding image quality in font sizes as small as 2 point and 1D barcodes as small as 6.7mm. In a single row configuration, the 42K Printbar offers print speeds up to 300m/min. It is also available in a dual row configuration with print speeds up to 548m/min and can be adapted into any number of different on-site workflow and software architectures.'
In March 2018, Fujifilm's Illumina LED curing solution was installed at South African multi-market label and flexible packaging manufacture, Advanced Labels. The success of the system led to the company installing three more units by June later that year – its managing director, Richard Jones, explained, 'We have recorded an 87.5% power reduction in the LED curing press, which, as well as leading to substantial cost savings, brings our goal of being 100% energy self-sufficient, through solar, much more clearly into focus.
Furthermore, waste is down, we're creating less pollution and a huge reduction in VOCs (and in noise and heat). We've even slashed our typical job make-ready time in half.'
This year, Fujifilm joined forces with flexo press manufacturer, Edale. At its Whiteley HQ, Edale has a newly built showroom which hosts virtual demonstrations featuring the highly efficient combination of Edale's flexo presses and Fujifilm's Illumina LED UV curing system and inks – which are installed on both its conventional flexo presses and the hybrid flexo and inkjet presses.
This feature was first published in the December 2021 issue of FlexoTech, which you can read online here; register here to receive the magazine, for free