Hitting the target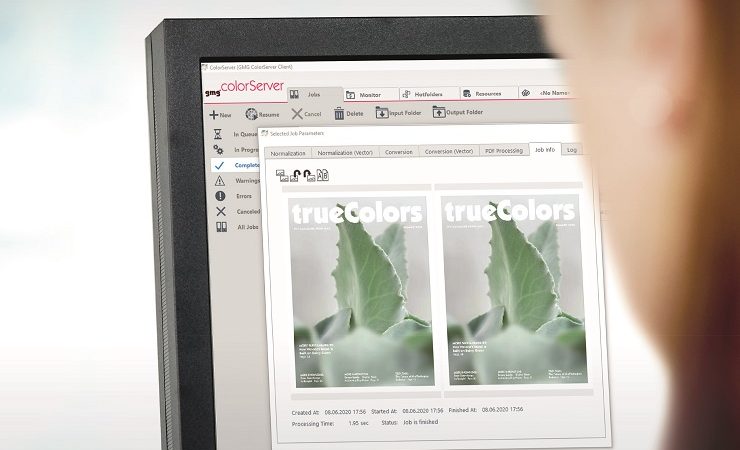 GMG OpenColor provides a central hub of automated colour management in pre-press
At almost every step of the flexo process there is an opportunity for something to go wrong. Colour management may sound like a job for just the ink technicians, but every part of the press must be considered. By Michal Lodej
Accurate and consistent colour management is a three-step process that starts with having a good level of control over your flexo press and the variables involved by observing regular maintenance practices. The press must then be fingerprinted to establish targets, and a process control tool should be employed to measure colour results and monitor consistency. The next task is to build profiles from the press characterisation and use this information for accurate proofing and colour conversions. As the press conditions are being controlled through preventative maintenance, the colour management software is able to deliver accurate results automatically – reducing makereadies and iterations, plus bringing significant press efficiencies and up-time. The first stage of managing the flexo process includes a number of factors not limited to preventative maintenance through anilox cleaning and gaining consistency by verifying plates and backing materials. With suitable procedures in place it gives you the consistency to control the press and more easily bring it back to a given target.
Variables that need to be controlled to enable consistent colour management include: inks, substrates, anilox rollers and doctor blades, plates and backing material, line screen and temperature, humidity and pH levels.
Everything's under control….
With all variables under control, the press should be fingerprinted so that colour consistency can be measured against your print production targets. The quality of your measurements has a direct correlation to the quality of your print. ColorWare's MeasureColor gives complete control over print quality and is now available as an integration to the library for spectral colour information, GMG OpenColor, which provides a central hub of automated colour management in pre-press. Together the products close the gap between pre-press and printing press, ensuring results match across the board for increased productivity and extended print capacity thanks to shorter make-ready times.
The values that MeasureColor uses as a target for print production exactly match the proofing colour definitions of OpenColor and, as a result, customer's expectations are met instantly. Therefore, make-ready and approval are much faster. With OpenColor the data used to build the profile is stored in a central colour database and can be called upon to create both proofing and conversion profiles, providing high levels of both efficiency and accuracy. With OpenColor, custom profiles are easily created to allow for unusual paper tones or adapting to flexo print. OpenColor is included as part of the GMG ColorServer Solution for hot-folder-based automated colour conversions. This pay-monthly subscription software has solutions for different areas of the graphic arts industry: including flexo printing and those who print cross-process using spot colours, such as the packaging industry. It enables you to manage your pressroom more flexibly. Switching jobs between presses, processes and sites is easy, while still achieving predictable colour results time after time, including matching spot colours and overprints.  
GMG ColorServer Conventional ensures the efficient handling of third-party data in CMYK commercial and packaging printing, whereas ColorServer MultiColor provides accurate conversions when using extended colour gamut printing in any print process. Different input data is converted to any desired industry standard using MX technology via a hot folder. Greater print speed and stability bring a significant increase in capacity, with consistent colour results as standard. The functionality of InkOptimizer is also part of the solution – saving ink and stabilising the print process.
Disrupting the groove
Like most manufacturers, printers and converters spent much of 2020-21 pivoting and adapting due to production disruptions caused by the global pandemic. Those who may have been in a comfortable groove with their production processes were faced with new challenges to their ability to produce high quality, error free packaging in an efficient way. The need for process automation has never been clearer. As print production has become more complex and print buyers more demanding, printers and converters are faced with not only the normal challenges of tight profit margins and scarcity of on-press colour experts. Now there is an added challenge of operating with minimal press crews as facilities cope with social distancing and personnel shortages.
Yet a synchronised, automated colour management workflow is much more than a potential remedy to those workforce struggles. By leveraging data from pre-press to press to post-press, print suppliers can dramatically reduce or even eliminate waste in terms of substrate, ink, and press time. The foundation of an efficient, simplified, automated workflow is the seamless sharing of large amounts of data. Baldwin Vision Systems, in partnership with ColorConsulting, offers a colour and ink management workflow that makes it fast and simple to utilise job-specific data from print buyers, data from the ink kitchen, and colour data collected on-press. ColorTrack software combined with inline Color Measurement with DeltaCam and InkWeigh ink management combine to deliver much more than incremental efficiency 'tweaks' to packaging providers.
Make the data count
On the front end, print buyers specify colour targets using data files, digital colour formula guides, colour books, ink samples, or actual printed product examples. Data is imported into the ColorTrack software. A quality manager sets up the print job (offline, saving setup time on press), and data is immediately accessible to both the ink kitchen and the pressroom. DeltaCam uses a 31-bin spectrophotometer to collect full spectral measurement data in real time, enabling operators to spot problems early and make corrections quickly, thus minimising waste, customer complaints, and rebates. When DeltaCam recognises colour values shifting away from specified targets, corrections can be automatically calculated by the ColorTrack software and sent to the InkWeigh ink management system. Corrections can be made quickly at press-side by simply pouring ink until the InkWeigh progress bar turns green. No specialised colour expertise is needed to bring colour quickly back to target without stopping the press, without a trip to the ink kitchen. InkWeigh also reduces your ink inventory by helping to re-use leftover ink on subsequent jobs. By collecting and archiving colour data from every job, printers can prove their performance to print buyers to eliminate rebates and protect themselves against litigation. Job information is easily accessible for repeat jobs, or easily editable for similar jobs. Michael Sisco, director of Software Development for ColorConsulting USA, commented, 'Besides process efficiency gains, the use of existing ink inventories brings obvious savings and environmental benefits in terms of reduced storage space needs and elimination of ink disposal costs.'