Hit the switch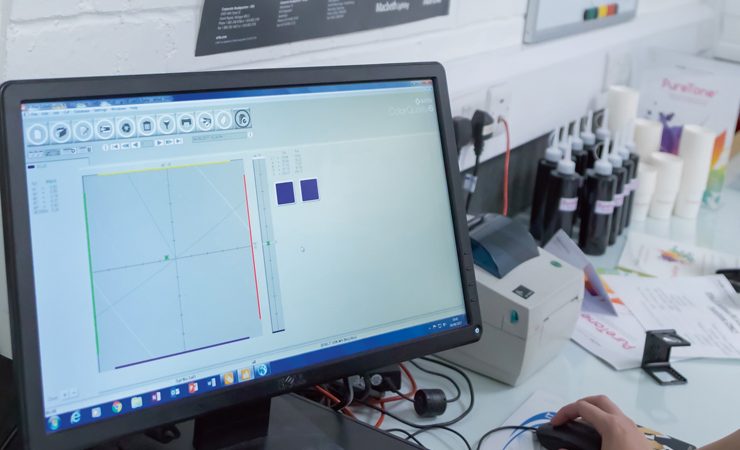 The accuracy of the PureTone database helps maintain colour integrity after a changeover
There are many advantages to running UV inks, but no matter what the benefits are, the process
of switching inks is a laborious task, and a huge test for the printer when attempting a repeat
job. Ink manufacturers, however, are on hand to help. By Michal Lodej
UV flexo continues to impact on labelling and presentation packaging of products such as bottled spirits, fine wines and other items that command a premium price. Generally, products, such as single malt whiskey provide a feel-good factor; when given in a presentation box, as is often the case with bottled spirits, they can make the recipient feel more valued. The high solids content of the inks means that UV inks provide for high gloss, high scuff, heat resistance and excellent resistance against chemicals. These properties make UV flexo ideal for products that might be subject to bumping, scuffing during processing on an accumulator line, during shipment or when displayed and handled on the retailers' shelf.
Tom Kerchiss, RK Print Coat Instruments, said, 'Brands are volatile, they're not invincible; they can just as easily slip back as they can go forward. They depend not only on what is being offered but also on the brand owner, marketer and the packaging converter's ability to promote the product. Consumers are drawn more than anything to products that look good. However, creating that memorable image, one that captures the essence of a brand, that defines the product as special, that makes the consumer purchase the product, and then return for a repeat purchase is not easy. For life's little luxuries, such as that bottle of Scotch or similar uplifting spirits, the labelling and packaging employed can almost be regarded as theatre. Designers, converters and packaging technologists must pull out all the "look at me" stops.'
All change
That all sounds attractive, but if you're not already using UV inks you will need a lot of reassurance before you switch over to them.
Pulse Roll Label Products, the Bristol-based ink manufacturer, has successfully switched many narrow web converters over quickly, and smoothly, from traditional Pantone ink mixing systems to its PureTone UV flexo ink system. Pulse Roll Label Products', Tony Martin, technical sales manager – South, said, 'The lengthy time involved in changing ink supplier and over to a new base ink range is often the biggest challenge in convincing a customer to make such a switch. At Pulse Roll Label Products, we have taken that changeover time down from what often took months to just weeks and, in some cases, even a matter of days. Process ink sets can be changed virtually overnight but changing to a new mixing base system can be another matter altogether. The key thing that makes changing over to our PureTone ink system so straightforward is the sheer accuracy of our colour database. A great deal of work went into making our PureTone and PureTone FPC colour databases so precise, and this makes any transition so much faster and smoother. For colour matching and colour measurement, our databases use X-Rite's InkFormulation Software and eXact spectrophotometer plus off-line proofing equipment from RK PrintCoat Instruments. Being able to select the anilox volume in our database to ensure the best possible.
Outcome for colour formulation plays an important part. The fact that colours can be achieved with a common volume anilox is unique to our PureTone and PureTone FPC ink systems. Proof anilox rollers can be calibrated to the press anilox allowing for an increase in 'Right First Time' formulations being sent to the press.'
Spot of trouble
Another aspect of concern when changing ink types is the fact that many spot colours may need to be re-formulated. Especially if changing from different ink chemistries, pigments are different thus colour hues may be different, but also, if you need to make a change from 'standard' UV ink to a food compliant UV ink – many of pigments used in standard inks are not compliant to packaging demands – hence colours are going to be different. This is probably not highly visible in full tone solids, or in forex standard 4-colour process printing, but many specialised colours (Rhodamine, Violet & Purple) will be based on different pigments in a food compliant grade, thus printers will need help with colour matching.
Niklas Olsson, global brand manager Narrow Web, said, 'We have developed a significant support tool for converters that will help in transitioning process over from any ink type. By developing a controlled, measurable process that took into account all the parameters influencing the results, we could transform colour matching from guesswork into a science, that delivered repeatable quality without depending on human expertise. This led to the creation of VIVO Colour Solutions, consisting of two distinct services. The first is VIVO Colour Portal, a web portal communication tool between clients and our Global Colour Center (GCC), in Lodz, Poland. The second is VIVO Colour Cloud, an intelligent database that translates the customer's colour target into an ink formulation to match the colour target on the press, taking into account the substrate, ink set, and anilox settings, to ensure accuracy at the first attempt.'
Out of the box
Jonathan Sexton, marketing manager, Energy Curing Products Europe, Sun Chemical, said 'Typical challenges faced by printers when converting ink series are likely to relate to a number of factors, including differing product profiles and specifications, changes in overall colour gamut, and ink management processes. Depending on the individual circumstances of a printer looking to convert an ink series, Sun Chemical is able to support customers with strategies based on two different technical options – SunColorBox and SolarVerse.'
Converting the many hundreds of colour blends and matchings can be challenging. However, by using one of many SunColorBox tools, such as SunMatch, mass conversion of blend formulations can be achieved with the minimal of downtime. Specialist formulation conversion tools can also be useful in many situations to make conversion quicker and more efficient.
SunColorBox, a guide is available to download on the company's website, offers a set of tools and services – from site assessments and full colour audits to matching and validating colours to hosting digital libraries of spot colours – that enables consistent, accurate digital colour communication and provides colour data connectivity across the entire packaging supply chain. SunColorBox offers every customer, whether printing spot colour, CMYK or extended colour gamut, tools that can be useful in many situations to make conversion quicker and more efficient.
The right building blocks
Any change within any business can invoke feelings of anxiety, distrust, fear and uncertainty. If not managed correctly, these feeling can lead to reduced productivity, increased costs and ultimately loss of business.
Paragon Inks has learnt from, developed and adapted over 35 years of experience facilitating ink supply change over. This expertise has the ability to create a smooth and professional experience for the customer, reducing cost and empowering personnel at the same time.
The objective is to exchange the existing incumbent ink supplier's products with Paragon Inks. However, what has to be considered and taken into account are the key aspects of the customers' existing production flow, product usage, historic stocks and formulae. These factors are then coupled with the customers' needs and requirements moving forward from training, equipment to on-site support, so creating the building blocks of changeover.
Paragon Inks works with key personnel within the customer to create bespoke phase-in action plans that will encapsulate the above building block points. Focusing on time lines, optimisation during the changeover process, as well as staff awareness, understanding and ultimately empowerment.
By working closely and openly with the customer's team, the company says it can work on potential problems or issues that may occur during the changeover that cannot be controlled by either party.