Razzle dazzle them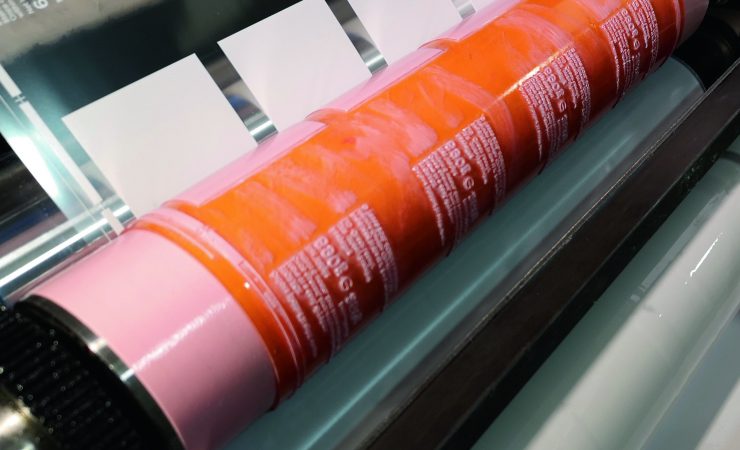 Pulse Roll Label Products has a number of products in its PureWhite UV flexo ink range
Whether it is just standing out from the crowd or whether it is helping the fight against the spread of pathogens, inks and coatings can have many more uses than achieving the right colour. By Michal Lodej
Whether its simply standing out from other packages on the shelf, or providing an additional and tangible quality, speciality inks and coatings can add a great deal of value to a printed product. Some such abilities can be taken from other print sectors. Colour flop, is a colour change achieved by using interference pigments.
This technique is very common on bank notes, used to help prevent counterfeiting. Now, that same effect can be achieved in print and packaging using standard translucent inks layered with white ink, colour one, an aluminium flake layer and a final layer of colour two. When viewed from one angle, colour one appears; when viewed at a different angle, colour two appears – often referred to as flopping to colour two. This is an ideal and affordable process that can be used to increase shelf appeal of printed products, as well as for a variety of other applications and industries.
'Colour flop has become more common in recent years in the automotive industry,' explained Lutz Frischmann, product director, Flexible Packaging, hubergroup Deutschland. 'It is quite an expensive feature, and has limited its applicability to other industries. With our new dual chromatic printing process, colour flop can be achieved with multilayer printing or coating at a cost of just 10% to 20% of the cost of typical special-effect-based inks. Plus, designers can use a much broader array of colours in taking advantage of this striking design feature. Our new method of creating chromatic flops can not only be used in printing, but also in many other well-known application processes like spraying.'
With this dual chromatic process, the colour flop can be designed by choosing the right translucent base ink, paint or coating for two different colours. These are applied to a white reflective base with a layer of a special aluminium flake coating sandwiched in between. In addition to creating a brand image or shelf appeal, this technique is ideal for security printing, helping to prevent or detect counterfeit items, since colours can be accurately measured using a multiangle spectrophotometer. 'The ability to accurately measure the special effect colours makes it very difficult to counterfeit,' Mr Frischmann added.
In addition to printed products and packaging, this dual chromatic technique can be used on furniture, electronic devices and more. 'The designer is truly only limited by his or her imagination in how to apply this technique as multiple colour flops can be realised in different areas with just one printing process,' Mr Frischmann stated. 'We expect to see some very creative implementations once designers realise what they can do and how affordable it is. Especially in the growing flexible packaging market, we have seen brands express a great deal of interest in a capability like this; but before now, they have been reluctant to incur the increased cost these specialised coatings have historically represented. With our new dual chromatic technique, those barriers disappear, opening the door to more creativity, security and differentiation than ever before.'
The right touch
For differentiation, Actega has found more and more customers rely on UV touch and feel coatings or coatings for special visual effects such as MotionCoat, UV Silver and UV Micro Structure to apply them to sophisticated folding cartons, including food, beverage, pharmaceutical, tobacco packaging, and other printed products.
The company is also developing a product for metal effects. In development at Actega since 2017 and soon to be commercially available, EcoLeaf provides a metalised effect without foil and to improve the sustainability of all related processes. 'Already now we achieve more than 25% of our turnover with new products and R&D investment represents 10% of our sales turnover,' described Andreas Gipp, senior vice president paper & board at Altana AG – Division Coatings & Sealants (Actega). 'It is in our interest to conduct intensive research and to continuously improve products. Thus, we are currently working on a next generation of barrier coatings, enabled by novel aqueous thermoplastic elastomer dispersions of the YUNICO technology, which are free from emulsifiers and solvents.'
Germ free
Paragon Inks are able to offer printers, converters, brand owners and retailers a positive solution for protecting their non-porous packaging from some of worst bacteria, including MRSA, E-Coli and Campylobacter.
The anti-bacterial coatings from Paragon Inks supress the growth of key bacteria on the surfaces of products, in conditions where growth can occur.
The coatings can keep printed surfaces clean and sanitary and can also have an advantage in minimising the impact on the environment by minimising diffusion of the agent. This technology is significant for the quality of life, not only in developed countries but also in developing countries.
The coatings have been independently tested by Industrial Microbiological Services (IMSL), to ISO 22196:2011 and abide by Swiss Ordinance and EuPIA guidelines for indirect food packaging compliant.
The ink prevents MRSA growth by ≥ 99.76%, Escherichia Coli growth by ≥ 99.99% and Campylobacter growth by 99.83%.
Recently, some of the world's leading coatings specialists gathered virtually at the Royal Society of Chemistry to discuss how special surface technologies could be used to tackle the global Covid-19 pandemic.
More than 130 academics, technical industry specialists and representatives of major healthcare and transport organisations remotely gathered at the event hosted in collaboration with the British Coatings Federation, the UK Trade Association representing paints, coatings, printing inks and wallcoverings manufacturers and suppliers in the UK. The webinar set out to identify the challenges and share knowledge on techniques that could prevent the spread of infection, both in the present and the future.
Anti-viral coatings contain agents that prevent microorganisms growing on the surfaces of materials, and are increasingly being researched for potential use in clinics, industry and domestic environments. As well as technical challenges, there are regulatory hurdles that need to be overcome before these materials could be deployed in public spaces.
Helen Pain, acting CEO of the Royal Society of Chemistry said, 'Bringing together the biggest and brightest names in materials research to tackle this issue is of paramount importance, especially now, and we are proud to be able to facilitate this level of discussion.
While we already have a number of technologies and techniques at our disposal, there is a clear need to accelerate research output and this meeting represented a crucial step towards advancing that.'
'It's crucial that the direction taken from here is representative of the diverse range of views and experience from across the anti-viral community, which is why we are calling on anyone with relevant insights to join our Surface Coatings Interest Group as we further these discussions.'
What's that smell?
While some ink manufacturers look to provide products which bring something extra, Cyngient has launched PUREmatte, which comes without something, namely the smell. The ink is a virtually odourless UVLED matte overprint coating for flexographic printers. Curing to an extremely low odour, it is ideal for printers and converters of shrink films and pressure sensitive labels, as well as flexible packaging and folding carton applications.
According to the company the coating offers excellent flexibility for shrink sleeves and prime labels while being benzo-free and featuring abrasion resistance. These properties make PUREmatte especially appealing to brand owners in the beverage, pharmaceutical, health & beauty, and other end-use segments with stringent demands for low-odour packaging, in addition to high-end shelf appeal. This product is also an eco-friendly product manufactured with lower migration materials. It is Nestlé- compliant and also complies with California Proposition 65.
Andrew Wasserman, managing partner at Cyngient, said, 'This is truly a game-changing technology for the shrink sleeve, beverage, pharmaceutical, and health and beauty markets, to name just a few. PUREmatte is truly revolutionary there's virtually no odour whatsoever. This means brand owners in the craft beer market, for example, can capitalise on the branding benefits provided by shrink sleeve's 360-degree real estate without odour interfering with product smell and taste. Early converter adopters of our ink are totally shocked, and their customers couldn't be happier. It's very exciting.'
While the ink's odour-free properties make it appealing for the printers, it also provides the shelf appeal brand owners desire. 'Anyone marketing products in the luxury segment will appreciate PUREmatte's organic, silky feel and high contrast look,' Mr Wasserman explained. 'It can even have a 3D effect – labels and packaging manufactured with this really stand out – this is no ordinary coating.'
In addition to shrink sleeves and pressure sensitive labels, the product is also an ideal fit for printers and converters of PET, OPP/BOPP films, paper, tag stock, pouches, carton board and cosmetic web films. A scuffresistant version also helps minimise cracking, making it a worry-free product during transport and logistics processes.
No fake opaque
Pulse Roll Label Products has a number of products in its PureWhite UV flexo ink range, from which printers can choose opaque white inks to suit their specific individual needs. The range includes opaque whites formulated for first down, overprintable, high-slip or shrink sleeve applications.
Its PureWhite high adhesion opaque white is a firm favourite with many narrow web printers. Gavin Green, general manager at Bootyman Printers, the Hull-based print and packaging company also uses the company's PureWhite inks. Mr Green said, 'Pulse Roll Label Products' opaque white ink gives superb adhesion without compromising on opacity or laydown.'
George Ashmore, technical sales manager – North at Pulse Roll Label Products commented, 'Our high adhesion opaque white is a unique product, incorporating similar technology also used in our UV flexo multi-use primer. The primer element gives an extra boost of adhesion on difficult substrates. Recently, it was used to very good effect at a UK converter who had previously required a dedicated primer before the opaque white to achieve the necessary adhesion on a laminated label. Our product enabled the primer to be eliminated, saving the use of a print unit as well as the cost of the primer.'
With the flow
As well as the necessity to achieve accurate brand colours first time, other technical properties of the inks can be just as important. For example, flow, transfer, opacity, coverage and overprintability are critical for label printers and package printers to ensure good on-press performance and, ultimately, optimal print quality.
Pulse Roll Label Products' PureBright UV flexo metallic inks are manufactured at its Bristolbased factory. The PureBright inks are formulated for improved flow, transfer, opacity, coverage and demonstrate excellent overprintability. State of the art equipment minimises aeration which results in optimal brightness and superior lustre. Plus, they are EuPIA compliant and also come in a food packaging compliant (FPC) version for non-direct food contact packaging applications, and general label printing.
Simon Halsey, product development manager, Essentra Packaging, said, 'Pulse Roll Label Products' PureBright FPC metallic inks are formulated to comply with the latest EuPIA guidelines – a critical requirement for Essentra and our customers. From a print production perspective, the excellent on-press performance of the inks is demonstrated with improved flow, transfer, opacity and coverage. Essentra delivers solutions that add value for brand owners – the PureBright UV flexo inks allow excellent overprintability and provide the superior lustre and optimal brightness required by our customers in today's market.'