The right mindset fires innovation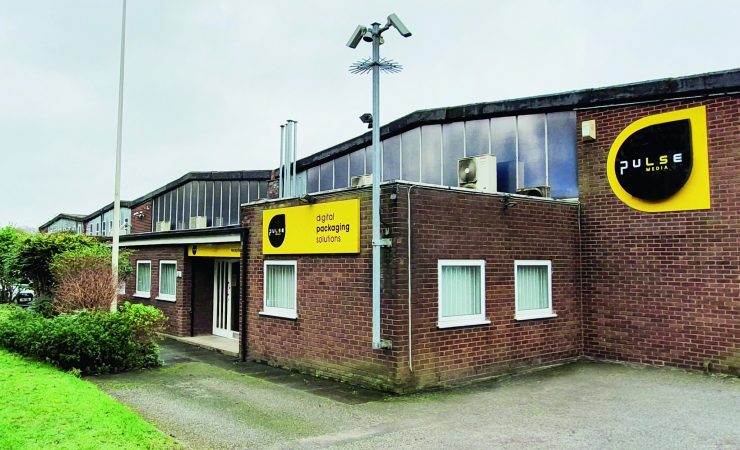 Pulse Media's Stockport headquarters
Flexo is continuing to take work away from other printing processes as the technology can offer outstanding print quality. However it takes more than just the right kit for a business to flourish.
'We're not afraid to challenge our clients. For us, it's a really important part of building and maintaining a relationship — it's how we discover new ways of working,' said Chris Rigby, after collecting a Silver Award in the Global Flexo Innovation Awards, hosted by Miraclon, recognised for workflow efficiency and offset-to-flexo process conversion. Mr Rigby is technical director of Stockport-based Pulse Media.
When necessary, Pulse can challenge clients at numerous points in the flexo packaging supply chain, having developed a portfolio of services that encompass everything from initial design through brand and colour management to press pass attendance, project management and consultancy. It is a far cry from the step-and-repeat litho platemaking that was Pulse's sole offering when it started life back in 1982. At that time, customers were the local printers on the company's doorstep; today, Pulse positions itself as print management agency serving global FMCG brands.
The company's presence in the FMCG sector dates back to the late 1980s, and the explosion in retailers' 'own label' products. Mr Rigby said, 'Customers needed suppliers that could ensure packaging was consistent across every packaging format — litho carton, flexo pouch, corrugated box or UV label. Pulse saw the opportunity and took it, and 30 years on achieving consistency is still the core of the business.'
At the centre of a triangle
Mr Rigby describes Pulse as a print management agency, he added, 'We sit in the centre of a triangle with designers, brand owners and printers at the corners, and our job is to ensure brand consistency. For it to work, all three have to trust us to use our expertise and act in their best interests to get the best results.'
The job that won Pulse the Innovation Award is a good example of this collaborative relationship. The beer carton had already been printed litho, with less than satisfactory results, and Pulse's brief was to improve both the print quality of the overall packaging and the colour consistency. A technical team made of Pulse, the printer, the plate supplier and an ink technician reviewed the design to decide on the best approach, considering factors such as the colour splits, and so on.
Mr Rigby continued, 'On the print date, as soon as the job was in-register, the client signed off the first press pull, which gave the added bonus of faster makeready. Overall, the flexo-printed version displayed improved register, better control of highlight dots, high solid density and improved print consistency — all over a large surface area and throughout the run. The result? The brand quickly moved three other designs to flexo from litho-laminate.'
Thanks to successes like this, Pulse is growing despite a market environment that Mr Rigby describes as 'very tough', and where what he calls 'price first procurement' is all too common. With 50 employees at HQ, plus five based on-site at customers, he said, 'Pulse fits firmly into the small-tomedium business category, so we don't have the buying power of the bigger
boys. Instead we have to compete on quality and service, and regularly pick up new customers on the rebound from lower-cost suppliers and looking for someone that can offer true value for money.'
Most vibrant
Mr Rigby gives a lot of the credit for this to Kodak Flexcel NX. 'Ten years ago it was difficult for flexo to match gravure and offset output, but NX was a massive boost — not least because it encouraged other manufacturers to invest in the flexo process, further improving quality, press control and inks. Equally important was a matching willingness of printers to engage and push the boundaries even further.'
In the short to medium term, the boundary-pushing is bringing into play technologies such as extended colour gamut (ECG) and fixed colour palette (FCP), as brands seek to reduce both costs and carbon footprints through colour reduction. With sustainability increasingly important to consumers, there's a major focus on recyclable materials, especially plastics, and Pulse is currently involved in a number of trials on new substrates. 'There's momentum behind flexo,' said Mr Rigby. 'Given the quality and consistency we can achieve, plus the shorter time-to-market, there are fewer arguments for sticking with gravure for flexible packaging.'