The right Connections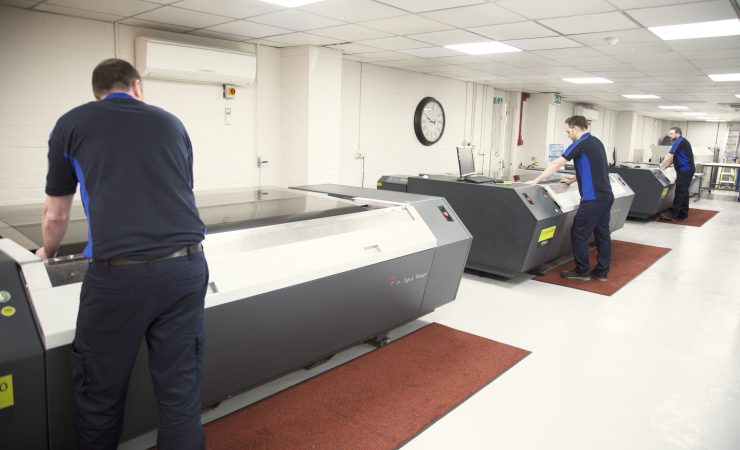 The company's CDIs in production
Connect became a member of the global cross media production company Schawk in February 2017. Since then it has continued to trade as Connect, a Schawk company, keeping its own level of autonomy while still benefitting from the backing of a global business giant. Michal Lodej reports.
It can be a culture shock when moving from one company to another, especially if they differ vastly in size. However, Connect has found that it can take the best of both worlds after being incorporated into one of the largest graphics and media companies around.
'One of the benefits of being with such a large group is the tremendous human resource and health and Safety support that is now available to us. There is a large dedicated team working towards employee welfare. New health and safety regulations have been introduced and these are the kind of things which we do much better now than before. Another benefit is our inter-company contingency planning with Schawk having two major plate manufacturers that are in close proximity to each other, we often help each other out.' explained Jim McCormack, managing director.
Print first
The company was set up 20 years ago by Jim McCormack, Geoff Walton and Dave Piercy and it recently held a celebration to commemorate this milestone. They have come a long way since then, as when the doors opened on the first day the company had no customers, the business had to be built up from scratch. Today Connect exports over 30% of its annual production to countries as far away as Saudi Arabia and Turkey.
As Connect's visitors are more involved with the production end of packaging, it needs to make sure that its own production is top of the range, and there is always support for this from the parent company. Mr McCormack continued, 'They will ask us if our equipment is up to task, they encourage us to invest in the latest equipment to make sure we stay at the forefront of the industry, as technology moves quickly. It's now been three years since we were acquired by Schawk and provided you can justify a purchase we have never had a request turned down yet.'
To this end the company has invested in LED exposure frames to create the very small dots with thirty watt light bulbs. The company also simplified its compressed air generator from two down to one in a cost and energy saving measure and it has just undertaken a major site refurbishment.
The company uses a software system to match up the plates with groups of jobs to get the most out of the polymer; this eliminates any area of polymer being unused and stops any jobs being imaged on the wrong plate. All this helps to keep costs as low as possible.
Being part of a global group means that opportunities become available for employees around the world, and if qualified, staff are encouraged to apply. Mr McCormack said, 'We might lose a really good worker occasionally, but we don't want to stop our people if a job comes up which they are interested in. This could be anywhere and as far away as Asia, but they can go for it if they want to advance their career.'
New era
Today the relationship between printers and suppliers has changed. Suppliers are seen more as partners, helping to work out issues together, and even team up with other suppliers for larger projects.
Justin Davidson client services director, continued, 'Repro today is also a far more transparent business, there is much more science and data used in the formulation of plates. It used to be called 'smoke and mirrors', or 'black magic', but that era has long past now and the process is high precision and disciplined, with everything made to measure to exacting tolerances. Brands and major retailers are driving this and they want to have the same from all their different print suppliers, they all have to hit the same colour target, for brand consistency.' 
Mark Stanney, technical sales director, confirmed that the standard of competition is very high, he said, 'We have a great respect for
our competition as they are doing such good things in this industry. So, beyond technology our USP is the relationship that we have with customers and the service element that we have, that's what the biggest clients we have like about us. In addition, we have our online system Connect-Online which enables clients to place new orders, track existing orders and even order repeat plates at the touch of a button 24/7. Today over 90% of all repeat plate orders take place over the internet.'
The company operates on a just in time delivery basis, driven by customer demands to have everything as and when they need it with typical lead times being between 6 and 48 hours.
The investment in technology allows the company to keep working on developments in plates, Mr Stanney continued, 'We released Q-Flex which was a game changer for us, however both we and the market demand more and so our team developed Q-Flex Advance, a much advanced product. But to achieve this you need the right equipment and so we bought three LED exposure frames, as well as investing in new dryers. We even played a leading part in developing the special screening required for HD Flexography.
'The new plate system is suited for fixed pallete printing, and helps printers create brilliant tonal ranges particularly at the highlights. It helps to improve quality by removing a lot of the common flexographic problems such as dot bridging and trailing edges. The plates also provide an improved ink lay down which helps to make the print look much brighter and vibrant.'
Connect has gained an enviable reputation across the industry for its approach to customer satisfaction and quality. It was recently awarded the highest score ever achieved in Europe as a part of Flints annual accreditation process. It has 9001, 14001 and 18001 industry accreditations to ensure that the standards demanded from the industry are met.