Responding to the digital challenge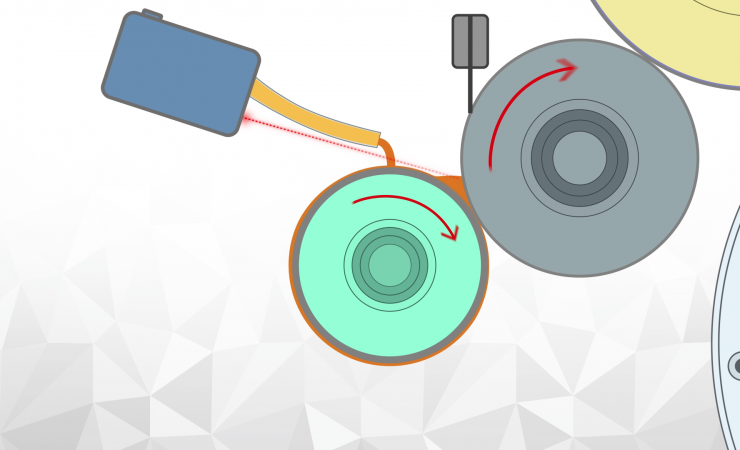 Schematic of Bobst's ink-on-demand ink delivery system
Flexo manufacturers, and users, are embracing Industry 4.0 techniques as they compete with digital production methods and the ever more demanding requirements of their customers. By Sean Smyth
The history of flexo printing has been one of continuous improvement, in quality, speed, set-up time, waste reduction and sustainability. In 2019 the analogue process is now coming to terms with the digital connected world that we inhabit. Manufacturing methods are changing as Industry 4.0 is implemented, integrated manufacturing with a connected supply chain. Fortunately the latest flexo technology helps the competitive position. And there are continual improvements and innovations being introduced to the market all the time from suppliers on narrow and wide web presses.
Bobst's 'Digital Flexo'is an excellent example of these concepts, brought together with consumable and pre-press suppliers to deliver very efficient printing. At Labelexpo Europe 2019 they showed the Master M6 narrow web flexo press allowing job changeovers in a minute without stopping the press. Using high levels of automation including the DigiMount automated system that features electronics for fast and accurate plate mounting. Bobst claims users can obtain up to 95% press up-time, making flexo very economic in producing short to mid-size runs. Two other innovations include Inkon- Demand (IoD) and DigiColor. IoD replaces conventional inking with a single rubber pipe that dispenses just 30 grams of ink to the print unit.
The system eliminates ink trays and chambered doctor blades and performs fully automated washing of the print unit in under a minute. The direction of the metering roller is reversed to keep a small amount if ink in the nip, with the rotation ensuring the anilox roller is always charged with ink and no voids. DigiColor is an inline closed loop colour system that enables digital adjustment to hit target E values during printing, at any speed, on any substrate, with any operator. It works by taking two ink sources for each colour, one slightly more concentrated. Then the system measures the colour target and adjusts the proportion of stronger and weaker colour to ensure the colour fidelity throughout the run. Bobst believes this is a major step towards full colour digitisation, including for spot colours.
And wider too
Spanish headquartered Comexi is showing its commitment 'Dedication to digitalisation' at the forthcoming K 2019 trade show, pushing the Comexi Cloud. This comprises a range of digital services linked to presses, and importantly the data these presses generate providing relevant production information. Production Analytics is the fastest and easiest way to analyse production, understand the cost of printing and converting, including consumption of energy, inks and consumables, the module provides the total cost per square metre printed during a specific period of time. The platform provides access to all machine documentation, always available and updated. Comexi Ordering Online, provides a 3D visualisation of a digital 'twin machine' allows accurately identification of a required spare parts instantly. The company is also pushing Smart Glasses, as a service tool to help reduce machine downtime by sharing information between field technicians and the support department in real time and vision. These provide access to the data on the Comexi Cloud about a particular machine for a technician, or for the customer personnel to be guided through a fix with a remote red pointer on the view.
Italian supplier Uteco is claiming to remain at the forefront of manufacturing, through investing and operating in the applications of Industry 4.0. All new Uteco production machines are equipped with software to track OEE (overall equipment effectiveness), which provides information on the press operation during production, identifying all activity and downtime, controlling all functions and showing potential alarms or faults. Presses can be interfaced to allow continuous dialogue with Uteco to provide support during job set-up and remote service. The UDAA systems (Uteco Data Acquisition Analysis) can acquire, process and store all sensitive data for the analysis of energy and ink consumption, and of the machine efficiency generating automatic reports, which are then made available to the Customer through a web interface. Uteco is investing in a cloud-based system that will enable a smart dialogue with the customer, sending alerts for any error or malfunction, helping efficiencies by reducing non-production times. This was first launched at drupa in 2016, and was updated in 2019 to an SQL (Structured Query Language) interface enabling real-time exchange, integrating presses to management information systems. One user is Italian converter Plastotecnica Spa, who is positive about the benefits, while Uteco reports there are over twnty customers using the system. 
Future vision
Earlier this year Windmöller & Hölscher ran an event for visitors to Experience the Future of Flexo. More than 500 visitors from around the globe attended demonstrations showing how fast an optimised printing process can be. Three hours after a group photo was taken, the image was printed on a Novoflex II press at speeds of 600m/min, then jobs were changed every 5 minutes demonstrating the intelligent automation systems for short runs. The flexibility is possible through optimisation of the overall process. The Novoflex press uses an automatic storage and sleeve ejection system enabling a sleeve change in a few minutes, with impression and register setting under 90 seconds.
W&H has developed their fully-integrated vision print monitoring system featuring a Head-Up Display and the intelligent print defect classification. 'The developments presented are part of our focus on Packaging 4.0: intelligent machines, intuitive operation and integrated processes' according to Hermann Veismann, head of the Printing Division at W&H. Like Comexi they are introducing smart glasses to support customers. The Information and Diagnostics Center demonstrated their use during live troubleshooting. A customer needing technical support puts on the headset with integrated camera and connects to an expert who sees what the customer sees in real time.
So, what's next? Press manufacturers have proven that using automation leads to improved consistency of output and improved productivity. The next step will be building Artificial Intelligence into a press. The technology is evolving to be able to learn, and machine learning will help guide innovation and process improvement. Already there are examples of Industry 4.0 machines that can predict failure and trigger maintenance processes autonomously (you will know this if you have a new car). In flexo printing this will adjust press settings to maintain quality standards and identify defects. More suppliers will implement such features and some will take advantage of growing interconnectivity. Presses that set-up and run themselves will become available, following the lead of litho sheetfed printing. Presses may be run remotely, automatically monitoring the print and adjusting process variables, while presses will communicate with one another and with other equipment, optimising the whole operation.
Flexo users can take advantage of the technology developments behind the connected world in ways that make their business more effective, boosting efficiencies and providing better service to customers.