Let's get ready to expo!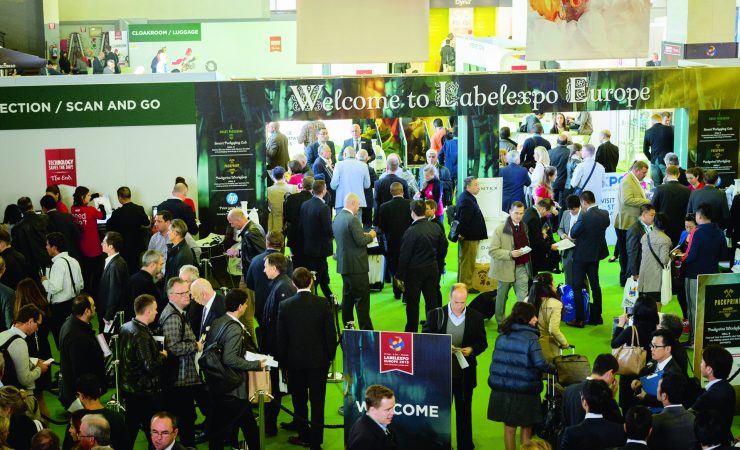 Labelexpo Europe celebrates its 40th anniversary this year
Celebrating its 40th anniversary, Labelexpo Europe this year opens its doors with the motto, 'Move Your Business Forward', and will have 600 exhibitors across nine halls for four days to show visitors how it thinks they should do just that. Michal Lodej reports.
The biennial Labelexpo Europe is part of the largest event in the Labelexpo Global Series. Since the inaugural event in 1980, it has become established an industry platform for label printing professionals, and renowned for its number of machinery demonstrations. The show brings manufacturers and suppliers together with printers, brand owners and designers under one roof, or nine to be exact. The key focus of the 2019 edition 'Move your business forward' will be on improving business strategy and moving the industry forward.
Spread across nine exhibitions halls, over 600 confirmed exhibitors will be taking part in Labelexpo Europe 2019, including AB Graphic International, Avery Dennison, Bobst, Domino, Durst, Epson, ETI, Fujifilm, Gallus, HP, Kocher & Beck, Konica Minolta, Mark Andy, MPS, Nilpeter, Omet, RotoMetrics, and Flint Group. Between them, they will be demonstrating their latest innovations and technology including: digital and conventional printing presses; high tech label and packaging materials; finishing and converting systems; inspection, overprinting and label application equipment; inks and coatings; RFID and security solutions; and software and interactive technology.
Being a biennial trade show, Labelexpo Europe gives us all an opportunity to measure how the industry has changed and to see what trends are developing. However there is a difference between a trend and jumping on the bandwagon. One area in particular which is sure to see plenty of examples of this are with environmentally friendly solutions. There are many good environmentally friendly products available in flexo, and there has been for some time, but with the recent spotlight on plastic packaging in the environment there is sure to be greater emphasis on the products that help combat this. To this end, the show has set up a Sustainability Insight Café as an informal area to gain an insight into the latest sustainable products and services designed with the environment in mind, that are making a difference to the industry. Visitors will be able to see a gallery of innovations on display, and information will be made available about each of them.
Digital debate dies
The debate about digital vs flexo is dead, yes digital is here to stay, but flexo is not going anywhere either. That's right;  the two technologies actually work very well together, each one stepping in where the other is not as economical, with many label printers using this strategy profitably. In fact many of you will also be a reader of our sister publication Digital Labels & Packaging. There will be those who will take the Benny Landa view, however, by the time we reach that dystopian future who knows whether packaging or even food will be necessary. It is interesting to look back at how the press manufacturers addressed this in the past. Their stories changed quickly from, 'No we're not interested in digital,' to, 'We've got the best digital/flexo hybrid on the market.' This does mean, however, that should you as a flexo printer be interested in a digital engine, your preferred supplier will no doubt have one to offer.
Expanding presses
While the hybrid rush was part trend, part bandwagon, this year's Labelexpo will demonstrate one trend which has stuck and that is the widening of label presses, allowing printers to run packaging work as well as labels. Nilpeter is demonstrating its 558mm FA press; MPS is showing a wider version of its Symjet, 430mm, and Omet's latest edition to its Xflex range, the X7, which measures in at 670mm.
These sizes my go against the grain of a labelling show, however organisers have been trying to attract a larger packaging contingent in recent years and this year will even hold a Flexible Packaging Arena where two conventional and digital press lines will be producing indirect food contact flexible packaging to the latest GMP standards.
The UV flexographic printing of flexible packaging will be shown on a Bobst M6 press incorporating inline UV dose measurement and food packaging compliant UV inks, while the digital printing will be on a Xeikon CX500 press with inline construction of food packaging compliant stand-up pouches.
Self improvement
Visitors to the 40th anniversary edition of Labelexpo Europe, will be able to deepen their technical knowledge of flexible packaging and self-adhesive labels with dedicated expert-led master classes and a workshop. These bring the number of in-depth technical learning programs to four, making it the show's most extensive educational schedule to date.              
Led by the Label Academy, the new master class and workshop will run simultaneously as half-day sessions on Thursday 26 September, from 9am. The new Flexible Packaging master class will be hosted by Label Academy founder Mike Fairley alongside other leading experts and aims to equip label converters looking to enter or expand their production into flexible packaging with the essential technical knowledge required. This includes substrates, design and origination, printing and converting. Participants will learn how ink components interact with drying and curing technologies, and with packaging line demands. Current legislation, including ink migration, will also be addressed.
The new Self-Adhesive Label Materials workshop will be hosted by Labelexpo's strategic director Andy Thomas-Emans, alongside other experts in the field of self-adhesive label substrates. Participants will learn how self-adhesive laminates are made; the importance of materials and the need for different adhesives; why different laminate constructions are needed, their usage and how to identify them; and the use of different self-adhesive test methods. The workshop also provides an insight into the correct methods for handling and storage of unprinted and printed laminates, and management of material waste.
Lisa Milburn, managing director of Labelexpo Global Series, said, 'We are delighted to offer our most extensive educational schedule yet, with the addition of two new expert-led programmes at Labelexpo Europe's 40th anniversary edition. The show is known for being the place where visitors can top up their in-depth knowledge of the latest technical developments driving progress and see it in action on site.
'Flexible packaging has an annual global rate of around five percent – one of the highest across all printing sectors. The dedicated master class will give label converters a valuable insight into its potential, and they can build on this knowledge by watching live digital and flexo press line demonstrations in the Flexible Packaging Arena. Self-adhesive labels continue to be Europe's dominant label technology, so it's vital that those involved in label production keep their knowledge fresh and relevant by taking advantage of this specialist workshop.'
A host of high-profile specialists are lined up to present at the learning programs. They include Alex Knott, senior technical service and development scientist at Dow Chemical Company and winner of the 2018 Label Industry Global Award for individual achievement, who will present on release liner substrates, and Christopher Ellison, FINAT president and managing director of OPM (Labels and Packaging) Group, who will be among the presenters at the Flexible Packaging master class.
Back by popular demand are two more master classes taking place at Labelexpo Europe 2019: Digital Label and Package Printing, and Inks, Coatings & Varnishes. Both will run on 27 September. The digital printing master class will be hosted by Mr Fairley and leading experts from the fields of materials, pre-press printing and finishing technology. The inks and coatings master class is led by Mr Thomas-Emans and offers participants the opportunity to learn how inks, top and barrier coatings, primers and varnishes are being adapted and applied to modern narrow-web converting operations.
On the show floor
Albertin (7B20) will show its new Smart Register Plate (SRP) System. On this steel plate all the necessary dies to create a complex graphic can be mounted. It can hold register in any flatbed or cylinder flatbed press and has the ability to change some dies, allowing users to tweak elements of the label design easily.
Displaying its full array of flexographic plates Asahi (5A34) will show its CleanPrint technology, which according to the company, enables the complete release of ink onto the substrate for a cleaner image and fewer press stops.
Avery Dennison (5A31) will have it biggest trade show presence yet. Under the theme, Making a Material Difference, the company will demonstrate; rPE, a facestock made from recycled polyethylene; rPET, a liner with more than 30% recycled PET bottle content; and an extension of its CleanFlake portfolio that enables closed-loop PET recycling.
Bobst (11A50), along with its digital printing competence centre Mouvent, will show a new hybrid Flexo press with Mouvent Digital technology. Other products on show will include Ink-on-Demand (IoD), Highly Automated Liquid (HAL) and DigiColor. The IoD inking system replaces conventional inking reservoirs with a single rubber pipe that dispenses 30grams of ink to the print unit.
HAL is an off-line ink mixing station for producing Pantone colours from 14 basic inks, and contains only one pump performing a pipette-style action. DigiColor is a closed loop colour system that enables digital colour adjustment to the target Delta E values during printing.
BST eltromat (5D23), along with Nyquist Systems will show new options for web monitoring and 100% inspection with the systems in the TubeScan family. The two companies will be exhibiting the current results of their collaboration with Hybrid Software. The collaboration has enabled them to considerably simplify and speed up setup processes in label printing (including quality assurance).
Cheshire Anilox technology (6C37) will introduce its solution for consistent ink transfer which is critical for Fixed Palette Printing (FPP). The ProFlo engraving offers a controlled ink transfer and eliminates many of the problems related to FFP. The company will also demonstrate its improved version of TactiLoX, for producing visually striking, tactile, bi-dimensional flexo printed textured labels.
Colordyne Technologies (9A51) will be joining Bitek Technology at Labelexpo to demonstrate the integration of digital printing with laser die-cutting using Bitek's latest any-LINK technology, and will be showing Colordyne's 1800 Series C for the first time in Europe. Converters and brand owners can see demonstrations of the 1800 Series C paired with the any-LINK universal speed synchroniser and latest laser die-cutting solution, the any-CUT II.
Cosmo Films (5D05) will show new labelling products which have been designed for sustainability, transparency, and premium finish substrates and personalisation. The range on show will include films for repositionable and removable labels, matte coated PS label stock films, and a high tear resistant synthetic paper.
Domino Digital Printing Solutions (9A60/9B50) will be demonstrating the capabilities of its K600i digital UV inkjet printer. The 445mm wide dual bar, high speed K600i will be integrated with an AB Graphics Omega SRI (slitter, rewinder and inspection unit) and will be printing 100% verified, high resolution, machine readable codes onto die-cut labels.
Dupont (3B66)will be focused on the main advantages of its Cyrel FAST thermal workflow and Cyrel EASY EFX plate, which according to the company offer consistency inproductivity, sustainability and quality.
Edale (4A35) will break from convention this year by showcasing an interactive display of its label printing technologies. The modules displayed include two FL3 430 wide print stations, the first with a chilled LED UV and the second with an extended UV chilled web path. Edale will also be showcasing their latest technology the new 'EZ Die' enabling the operators to change a die tool in less than 60 seconds, and an FL5 Print station at 510mm wide.
Esko's (3C60) stand will feature a range of software technologies, including scalable automated workflow server Automation Engine, web-based project management platform WebCenter, award-winning flexo platemaking and screening software Print Control Wizard, the next-generation pre-press editor ArtPro+ and 3D packaging software Studio.
Eurograv (11F11) will be promoting its range of plate mounting technology including the Camis range of plate mounting untis.
The entire Flint Group will be exhibiting together. Xeikon Prepress is launching a new and integrated prepress solution for digital flexo plates building on the success of ThermoFlexX digital imagers and Woodpecker Nano screening technology.
The NXT generation and LASER units will feature on the Flexo Wash's (7B25) stand as the company focuses increasingly on easy handling and sustainability. The com
pany will show anilox cleaning, plate cleaning, parts cleaning and more.
Focus Label Machinery (7D25) will show the new e-FLEX model providing a new flexo/digital combination press platform for meeting the demand of medium and short run jobs. Also on display will be the company's d-Flex digital inkjet press using Konica Minolta inkjet technology with the existing e-flex servo press with in-line UV flexo print head, die-cutting, slitting and rewinding. Also on the stand will be the Proflex SE, a full servo driven, modular press available with print widths of 250mm and 330mm. The company will also be running Rotometrics' new EZ Clean module on all of its presses.
Gallus (5B28/C31) is premiering its new Rotary Die-Cut Unit Quick unit for fast format changes. Visitors can see the die-cutting format in live demonstrations on a Gallus Labelmaster Advanced equipped with the new unit. The company will also unveil the new Digital Printbar, an inkjet printing unit at 430mm wide, designed specifically for digital insetting of highly opaque whites.
Gama International (11F16) will present, together with its local dealer Advanced Machinery, viscometers, sleeve storage systems, anilox and photopolymer cleaning systems. Among the products, a focus will be dedicated to the G34 system, specific for control-ling viscosity and temperature of UV inks and G32 for water-based varnishes.
GMG (6A22) will demonstrate at its latest colour management and workflow tools for the automated use of individual profiles. With the Epson SureColor SC-S80600, coupled with GMG's OpenColor ColorProof, users can create packaging samples that are colour accurate.
Graymills (9A59) will unveil its Smarter Ink Pump Family, the company's newest innovation in Peristaltic Pumps. Smarter Pumps have a new physical appearance and smaller footprint than previous Graymills models and can be mounted vertically or horizontally and easily adjusted in the field. They feature Graymills' proven quick-disconnect removable head technology, which allows the pump head/tube changes to be accomplished in seconds without tools.
Ink logistics solutions provider GSE (7D59) will introduce a new Windows 10-based automation control on its Colorsat dispensing systems and enhancements to its Ink manager software package with new reporting, scheduling, and machine connectivity features. The latest software introductions enable packaging and label converters to manage inks with greater efficiency, security, accuracy and flexibility at all stages in the workflow, including purchasing, mixing, returning and reusing.
Hybrid Software (8B24) will be giving demonstrations of its pre-press software packages Packz, a complete set of pre-press, editing and quality assurance-functions, and Cloudflow, a server software product for file and asset management, soft proofing and workflow automation.
Innovia Films (4B48) will be showcasing its range of BOPP facestock films that offer environmental benefits. BOPP films offer a positive balance of functionality and environmental impact versus many other plastic materials.
Integration Technology (5D21) is showing the latest in its semi-conductor technology the Pincure Z which provides high-speed pinning between printheads, and exhausts from the top of the lamp head, safely away from any adjacent printheads. It is also available as a water-cooled unit, the Pincure C UV LED. Additionally on show will be the air-cooled UV LED Z Series which offers the 6W/cm² MZ for inter-colour curing or high-speed pinning, used for white inks on single pass applications. The MZ comes with the XT8 UV LED Booster as standard.
IST Metz (5D21) will present LEDcure SCR, its special retrofitting system for flexographic printing presses. The basic design of the LEDcure SCR is intelligent and modular as well as robust and compact, giving users the utmost flexibility and versatility. The system is available in lengths from 270 to 540mm and can be adapted to all requirements of flexo printing machines. The LEDcure SCR is part of the LED product range that IST offers in cooperation with its subsidiary Integration Technology.
JM Heaford (7D33) will show its Label AutoMounter which can mount any plate in less than one minute with an accuracy of five microns. The automated machine eliminates the need for skilled operators and makes it an ideal solution for larger label producers running round-the-clock with multiple presses. Consistent plate mounting is maintained via a simple, multi-lingual graphic interface, and the system can store and recall over 100,000 jobs.
Labeltraxx will be giving a demonstration of its Siteline online interface. Siteline is a web portal enabling end users to order repeat labels, view product specifications, see order history and approve proofs from their mobile device.
MacDermid Graphics Solutions (5A17) will introduce its LAVA NW-M thermal processing unit to the European market, as well as debut its expanded LUX ITP inherently flat-top dot plates to include LUX ITP 60, LUX ITP M, and its newest plate – LUX ITP EPIC.  All three plates are formulated with Clean Plate technology to reduce the number of press stops and ensures a cleaner print and better ink laydown. The LUX ITP plates, processed using the LAVA thermal processing system, create a streamlined workflow for printers and converters to reduce platemaking time.
Mark Andy (4C45) will present its Digital Pro line, a modular entry to mid-market digital system. Attendees will see live demonstrations of Digital Pro 3, the inline converting model fitted with semi-rotary die-cutting. The roll-to-roll configuration, Digital Pro 1, will also be on display on stand 8A60, marking Mark Andy's first presence to the 'Digital Hall'.
Martin Automatic (7A35) will be exhibiting two machines from its range,  the MBSF ('F' for film) automatic unwind butt splicer designed for a production environment where headroom is limited, and the LRD is a two-spindle non-stop automatic transfer rewinder. The LRD canautomatically transfer the running web from a full roll to an empty core without stopping or slowing the line and can automatically unload finished rolls.
Meech International (6C34) will be presenting its latest technological developments to support label production, including; CyClean R, Hyperion IonCharge 50-75w and IonCharge 30, and the Hyperion 960IPS.
Miraclon (4B61)will be showing its Flexcel NX Ultra Solution. According to the company this offers VOC-free, water-based processing that allows printers to create a press-ready plate in less than an hour. The system is an aqueous solution that provides consistent, high-performing flexo plates in a high volume, low maintenance environment.
On the MPS (11C20) stand will be an updated version of the hybrid EF Symjet press, presented for the first time with a Domino digital N617i inkjet printer and with a wider 430mm width. The company will also be focusing on four key processes that extend beyond the printing press in a Hollywood-style theatre atmosphere.
Nilpeter (7B39/7B35) will exhibit two of its FA-Line flagship flexo presses with a number of new technologies. The first FA-Line press on display is 430mm wide, with cold foil, lamination, and a new high-speed semi-rotary die-cutting unit. This press will run in combination with two new technologies: the high-build inkjet varnish and high opacity white inkjet units. The second press the multi-substrate 560mm FA-Line. It features a new 560mm quick-change die-station, UV lamination, and UV LED drying.
The main attraction to Omet's (6C49/C53) stand will be the X7 press. A new addition to the XFlex line, it is a flexo printing machine for labels and flexible packaging with a 670mm web width. A new version of the XJet hybrid press will also be on show, as well as full LED iFLEX and the linerless solution developed in collaboration with Ritrama and Spilker.
Making its debut in the label printing and packaging industry, Peleman (7E20) will present its digital foil printer. The flat bed foil printer allows printing companies to offer a variety of on-demand services and to create one-off proposals, prototype labels as well as folding carton samples, without the need for large production runs.
Prime BladeSweden (11A24) will be showing its doctor blade products that keep the downtime and waste as low as possible. On display will be its  Nano treated blades and its Low Friction treated blades.
Pulse Roll Label Products (3C64) will showcase its PureBright UV flexo metallic inks. The new metallic inks have been formulated to comply with the latest reclassification of raw materials, adhering to EuPIA's Exclusion Policy. The new silver and golds are available as standard or as a food packaging compliant (FPC) version, suitable for non-direct food contact packaging applications, as well as general label printing.
Refine Finishing (7B42) is making its Labelexpo debut by displaying two converting machines from the Compact product line. The Compact 1 is a complete die-cut solution for finishing of digital and conventional printed labels, and Compact 2 is a die-cut and flexo solution with a fully automated flexo station, cold foil and lamination capabilities. Both machines are capable of up to 80m/min in semi-rotary.
Ritrama (3A15) will present its products with a spotlight on its Core Linerless Solutions, the platform developed in collaboration with Omet, Spilker and Ilti, which is capable to transform the liner from waste into a resource, combining sustainability and cost reduction. Also on show will be the RI-MOVE range: a range of self-adhesive labelling materials developed to meet both the most stringent recycling and reuse requirements for glass and PET containers.
Rossini (11D23) will be showing its range of flexo, gravure and lamination sleeves for the label industry. Its  new High Speed bounce reduction adapter Fastbridge is its main attraction.
A comprehensive range of RotoMetrics (4B25) products will be on show including the new EZ Clean Pathing Rolls, which improve web tracking and have easy clean features to keep presses running longer. The stripping rollers have a specially treated surface to ensure that any break in the waste matrix being rewound is self-repaired and does not require the press to be shut down causing a loss of productivity.
Sandon Global (7E51) will discuss the specific and technical challenges facing narrow-web printers. An interactive display screen will provide an opportunity to explore its various engraving solutions, designed to overcome specific issues or enhance ink transfer and release properties including; FluidUV covering both solid and tone work, ProjectBLUE for Ultra HD solution, GMX designed to apply special coatings and inks, and HOW offering four opacity levels of white whilst maintaining press speed.
Spilker (4C58) will be demonstrating its LabelShifterPlus for the fast and steady removal of matrix waste.
Sistrade (9A39) will present v12 of Sistrade MIS/ERP, with a number of new features and improvements released for all the label converters, flexible packaging and packaging. This new version aims to help companies be a part of the Industry 4.0 transformation, contributing to enhance automation and increase production efficiency.
SPGPrints (4C60) will be presentingits new RSI III rotary screen integration unit. The unit can apply value-adding functional and visual effects in a single pass at speeds up to 150m/min. It is particularly suited for adding white ink of the highest opacity for no-label look applications, creative spot and flood varnishes, metallic effects, and rich, opaque colours for striking brand designs. Tactile effects including raised lettering and Braille (up to 250 microns) can be quickly applied in one, uninterrupted process.
Sun Chemical (5E45)will launch its SolarVerse range of highly pigmented, low viscosity, UV flexo base concentrates, designed to be easily dispensed and offering benefits in terms of cost savings and flexibility. The company will also be introducing a new concept for food compliant UV flexo products within the SolarVerse system, under the brand name SolarFlex Zero.
TRESU Group (7D53) will show an expanded range of chamber doctor blades and supply systems for automating ink flow in label and package printing. On the stand will be the FlexiPrint Reservoir SAVEink chamber, for widths up to 800mm wide, which includes an optimised reservoir, needing no connected pump.
Troika (11A23) will be showing version 9.5 of its anilox-qc, Flexo-qc and Gravure-qc applications for the AniCAM and SurfaceCAM with enhanced performance in terms of speed and functionality. The units come with new tools to make more accurate analysis and reporting of results and enhancing the user experience by automating previous manual features of the software, such as wall and opening values. 
UniNet (8B08) will be showcasing a selection of products from its iColor Printing Solutions. Developed to enhance the product capabilities of the short-to-mid-run label and packaging market, this will include the iColor 200 and the iColor 700 digital label presses.
Vetaphone (7E28) will be exhibiting four machines at Labelexpo. For narrow web surface treatment the VE1A-A (C4) features four ceramic electrodes and is designed for single-sided treatment; while the newly launched VE1A-M (C8) is designed for complex substrates and applications where high corona power is required from a single unit. New to the Vetaphone portfolio is a range of web cleaners that are designed to complement the company's corona stations.  On display will be a VE2A-W (double-sided) and VE1A-W (single-sided) unit, available in four widths from 350mm to 570mm and capable of running at 250m/min.
Zeller+Gmelin (11A47) will present their brand new Uvaflex Y80 ink series for UV flexo printing (non food). The range of applications extends from wine labels on uncoated paper and packaging materials to wrap-arounds and shrink sleeves. The raw material base of the new Uvaflex Y80 flexo series is completely up to date and fulfils all requirements of the EuPIA exclusion policy.