UV Days shine bright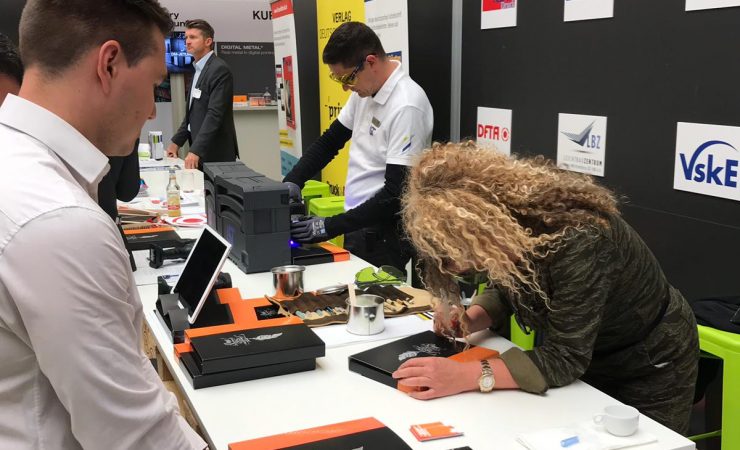 Calligrapher Sigris Artmann used a UV varnish to personalise notepads for visitors
IST Metz held its UV Days in-house trade show to display its latest developments in UV, LED and excimer technology at its headquarters in Nürtingen, Germany, 13–16 May. Michal Lodej was invited to see how the event has grown.
This year heralded the ninth IST UV Days event; what was once described as an open house is now billed as an in-house trade show. Held every two years since 2002 (a year was skipped to avoid clashing with drupa), the event has grown into an exhibition where visitors can see over 40 industry suppliers as well as IST's latest developments in UV curing.
The theme for this year's show was 'tradition meets modernity' and the company showed how its products are leading the way, even as IST remains close to its roots.
Each day began with a joint presentation from the company's CEO Christian-Marius Metz and managing director of sales Holger Kuhn. After welcoming the guests to the event, they explained the theme, 'Two ideas of tradition meeting modernity are the UV LED lamp which is the modern day version of the mercury lamp system, and our handheld curing lamp which is far removed from its 1970s predecessor which was huge.
'A lot of our applications are still in print and we have a strong focus on print, such as a book with a cover with nice finishing, but our technology is also used for tablet devices and we are involved in digital technology for creating screens in TV and tablets.
'We hear a lot of buzz words such as disruptive change, globalisation and platform economy, and we of course will look into these and see if there are opportunities for us to grow. But before we look at Industry 4.0, we look back at the previous industrial revolutions, with steam replacing men and animals, then onto assembly lines, to computer technology, and now the industrial revolution where vast amounts of data is collected by the digital channels we all use.'
The two speakers then gave an overview of some of the trends they have noticed in the industry and in technology as a whole, 'The trend of being online, we are always on, always connected by phone, tablet or computer, which has led to a rising trend of the digital detoxing, these two are of course directly connected. Everything today can be ordered online and this trend has changed printing with web-to-print, so business models have changed with technology.
'However, not all digital market places are at home in Europe and North America. In Asia they have their own such as Alibaba. These forms of communication are not experienced in the rest of the world but are still important.
'In today's industry you don't even need to own the equipment which generates revenue, but instead rent it. We are also more concerned with the environment, and there is the opportunity in our own industry to learn more about de-inking solvent inks. But we all need to be more aware of the circular economy in any case.'
Appealing to the senses
The emphasis at the UV Days is always on the developments on UV and LED technology whether for sheet-fed, web or digital printing applications. Guests had the chance to see a press running live to witness IST's curing technology in action. The print job this year was the SIMPL dining food box, which helped to demonstrate the importance of fully cured ink to prevent migration issues, made more significant by the fact that these were used to serve the attendees' lunch. 
The SIMPL food box design incorporates a lid with a sliding function to allow a peek at its contents without fully opening the box, and is robust and lightweight enough to be used for deliveries. The boxes were printed on a Heidelberg Speedmaster using five colours on Ensocaot 2S in accordance to low-migration requirements, cured using LAMPcure technology.
Other demonstrations of UV curing power came in the form of specially developed packaging for the coffee found at the x-press-U espresso bar, where three different types of coffee were available depending on your persona. Guests also received a Padbook which they could have decorated with their initials written by calligrapher Sigris Artmann, using a UV varnish which was then cured with the HANDcure LED device from IST.
A local show
Over the years the show has grown, but in the exhibition sector it can often be difficult to keep momentum for an event going, especially if it is every other year. However the show is still as popular as ever, Mr Kuhn told FlexoTech, 'Feedback is good, this show is larger than ever before with more than 40 other companies exhibiting and we had 1400 pre-registered guests. The main objective of this event is to network with printers and suppliers around our UV technology. We send out invitations and this along with word of mouth from previous shows helps to keep the numbers up.
'The first UV days were held in 2002 and ever since it has evolved into an open house, which gets bigger each time. It is important to make contact in the industry between exhibitions which happen globally, and we can do that here in a more local setting.'
With over 400 guests attending the show on just the first day, it looked as though it would meet its target number. While it is a local gathering for most the attendees, around 70% of the visitors are from Germany, the other 30% come from as far as Asia and America.
Mr Kuhn continued, 'UV LED technology has now been used in the graphic arts industry for over 10 years. One side of how it can improve is hardware, making it more powerful, or efficient, but essentially everything it needs is already there. The other side which does need some development still has to be done in the labs of the ink and coatings developers. There is uncertainty in the development of future inks with shortages appearing in the supply chain of raw materials. We have the means to work with ink providers testing their products here if they have to.
'In the last three or four years we have readjusted our strengths, still focused on the print-based areas, expanding in Asia and coming back to wooden surface treatment with our excimer technology. There is lots of demand in the flooring industry for this technology with anti-slip capabilities required and that is actually going back to the roots of the company.'
The ink itself
Many ink manufacturers were also present at the event. Siegwerk's range of ink solutions included Sicura Nutriplast 2 New, the company's low migration ink series for plastic substrates, and Sicura Plast SP Luxe, the company's odourless ink series for printing on paper and board as well as plastic applications, or other well-established flexo and offset printing solutions, and newly enhanced solutions such as Sicura Low NRGY UV/LED UV.
Sun Chemical showed its range of UV LED curing offset inks – SunWaveT Lumina. The fully EuPIA compliant inks are suitable for use on all sheetfed LED press types including those equipped with low energy mercury lamps. Sun Chemical experts were available to discuss the company's UV printing portfolio of EuPIA compliant products, featuring new migration-compliant LED offset and flexo inks. 
hubergroup was showing its latest invention NewV cure. According to the company this solution can determine the curing degree of UV inks as well as its EuPIA compliant UV ink. 'With NewV cure, we end all subjective methods of curing determination and create a new standard for quality management in UV curing,' said Roland Schröder, product manager UV at hubergroup. 'It will help to reduce waste and rejects due to incomplete curing and increases security in packaging production. As our previous tests were very successful, we are excited to present first results with NewV cure to IST UV Days attendees.'