Single-minded about sustainability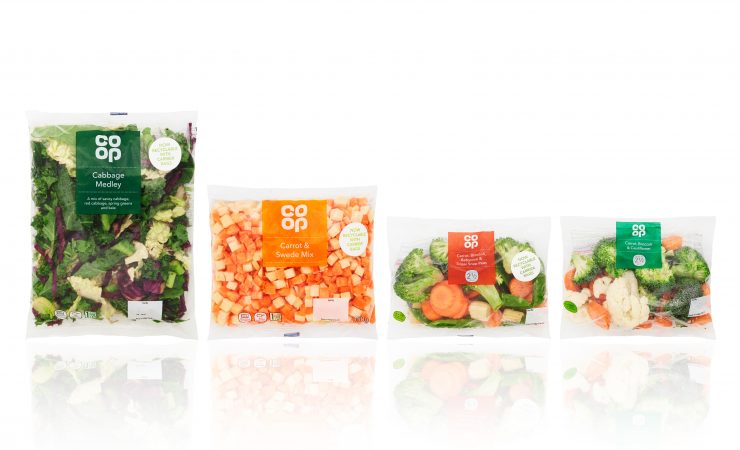 Recyclable PE film produced for the Co-op's Freshtime offer by Coveris
The direction of travel towards a more sustainable future is changing the face of retail packaging, reports Des King. 
The packaging industry is no stranger to the knock-on effects of the retail sector cutting its coat according to its cloth; invariably due to budgetary constraints but increasingly as often nowadays in response to environmental considerations. It is also something at which it has become highly adept, and even in the longer term benefitted from. What is lightweighting if not a classic example of 'less is more'? The last 18 months, however, have been an especially challenging time for packaging past its use-by date and for single-use plastic applications in particular.
Whilst inadequately managed packaging waste has been an increasingly visible problem for many years – the Great Pacific garbage patch, for example, was first identified as long ago as 1997 – and whilst any number of NGOs such as Greenpeace and the Ellen MacArthur Foundation have been strenuous even longer in their campaigning in support of remedial action, it took the worldwide public outrage sparked by the 'Blue Planet' TV series to nudge both government and industry to seek measures aimed at getting their respective houses in order. Despite the tangible benefits that flexible film provides such as maintaining product freshness over periods of extended shelf-life and indeed, reducing carbon footprint by dint of its greater efficiency in transit, it has become synonymous with the sight of unacceptable waste and the go-to villain in what sometimes sounds more like a populist soap opera than a reasoned debate.
Government measures
Government response across the EU has been uncharacteristically swift with the Single-Use Plastics Directive (SUP) enacted last December, barely seven months after its terms were initially proposed. An outright ban has been imposed on plastic packaging items such as straws; coffee stirrers; disposable plates and cutlery if alternative formats are easily available and affordable. Expanded polystyrene food and beverage containers as well as cotton swabs are to disappear from the market by 2021, with a reduction of 25% for plastic containers for fast-food and on the go consumption to be achieved within the same time-frame. Oxo-degradable plastics are to be banned.
Environmental and economic benefits drive the EU directive. It hopes to include an avoidance of the emission of 3.4 million tonnes of CO² equivalent; likewise environmental damage to the tune of €22 billion by 2030; and a saving to consumers of around €6.5 billion.
Meanwhile, state intervention within the UK has been correspondingly drawn out and up until now indecisive; arguably since Westminster has had more pressing matters on its mind. That hiatus, however, has allowed ample time for canvassing opinion from those parties most directly concerned – not least across the retail supply chain – with the focus more weighted towards self-regulation than imposition.
Consequently, four central consultations are currently being considered: the introduction of two different variants of a deposit return scheme (DRS); a change to the existing producer responsibility scheme (PRN), with producers of packaging required to cover 100% of recovery costs; a one scheme fits all household waste kerbside recovery scheme across all local authorities; and a recycled content threshold tax – the so-called 'Plastic Tax' – to come into force in April 2022.
In much the same way that the EU directive has created more questions than provided answers – not least a definitive interpretation of 'single-use plastic' itself, and a reluctance to lock member states into an agreed time-table or to impose binding targets – likewise, each of these consultations has plenty of capacity for spawning unintended consequences. For example, DRS could have a direct impact upon the quality as well as the quantity of waste collected kerbside, resulting in a loss of revenue to local authorities. That prediction has yet to be proved. In the meantime, though, and whilst no further clarification is expected until September, it is inevitable that the volume of all retail packaging in circulation – mostly, but not only plastics: single-use or otherwise – will be reduced. 
Self-regulation in effect
The UK's leading 10 multiples are estimated to feed in excess of 810,000 tonnes of single-use plastic into the market each year (source: Greenpeace). Whilst most of them have declined to follow Iceland's lead towards a store stocked by plastic-free aisles – Thornton Budgens being a singular exception – arguably on the grounds that it might be undeliverable, there is clear evidence of them either making do without it or else significantly reducing the amounts of plastic packaging they use wherever possible.
As well as replacing plastic carrier bags with paper ones capable of holding up to 16kg in weight, Morrisons is making the same switch for all loose fruit and vegetables. That will even extend to removing film sleeves from cucumbers. 'We are taking another meaningful step that will remove an estimated 1300 tonnes of plastic out of the environment each year,' said group customer and marketing director Andy Atkinson. 'Our customers have told us that reducing plastic is their number one environmental concern so introducing the paper bag across the nation will provide another way of reducing the plastic in their lives.' 
Other steps being taken by Morrisons include inviting customers to bring their own containers to use at the in-store fresh meat and fish counters – with them being then being tagged in order to pass through the check-out. 
Whilst reduction appears to be an obvious way of dealing with the problem of single-use plastic – if indeed problem is what it is; it'll be interesting to see how those sleeveless cucumbers fare, for example – recycling is a more mindful option, not least in its synergy with circular economy principles and practices.
M&S is committed to making all of its plastic packaging recyclable by 2022, notes circular economy lead Kevin Vyse. 'In removing the last of the polystyrene we've actually got there; we've got PP, PE and PET all of which can be separated and sourced into UK plastic recycling facilities. Along with all the other retailers we've elected to remove all black materials from our business. What it comes down to is that as far as the consumer is concerned, all the (rigid) plastic packaging of their M&S products can be dealt with in the same way. What we're left with is being able to say the same about flexible packaging. 
'It's always been our intention for consumers to not have to worry about different types of plastic but to treat them all as the same thing. Getting consumers into this mind-set is very much core to the UK Plastic Pact thinking too in working towards getting uniformity across all plastic packaging users so that there's no confusion; not least for the recycler. The consumer needs to see plastic as plastic.' 
That evolution has come one step closer through the development by Coveris of a recyclable PE film that has now been adopted by a number of retail brands including. own-label fresh produce from the Co-op and Tesco. The film carries an OPRL label that states it can be recyclable 'store-side'; the idea being that consumers will return used packaging to the store for onward recycling into non-food contact applications.
'There are a lot of films out there that go under the guise of being recyclable – but aren't, because of the complex nature of the polymers being used in them,' said Coveris group technical director Will Mercer. 'There are some polythenes out there for example that are actually polyolefins that have PP in there etc. There's a lot of difficulty around how such materials will perform within the recycling stream.'
Hard though it is to achieve, a recyclable solution for flexible packaging applications currently is attracting more support than a biobased compostable alternative. One rather obvious reason could be is that whereas over one-third of the 300 million plus tonnes of oil-derived plastic produced annually goes to the packaging industry that compares with less than 1 million tonnes of biobased materials. 
'There's a massive gap between the two so how do you move from one to the other without impacting on food waste, for example,' said Will Mercer. 'Naturally, we're keeping our options open and are interested to see how the dynamics might change, but as a film manufacturer we're presently very much focused upon recyclability. And in any case there's no point going biobased without an adequate infrastructure in place to undertake recovery and composting.'
Mr Vyse flags up the same obstacle facing compostable adoption. 'The challenge is that what it says on the pack has to be truthful. We would only want to describe something as being compostable if we're absolutely rock solid certain it's so. At the moment, talking to all the waste people, that's not the case; they have not got the capacity to do a proper composting operation. So whatever we produce in that respect would have to be at quite a low level in order to ensure that it will go through the waste stream without causing damage.'
Both the EU directive and the consultations published by Defra that are currently under consideration within the UK reflect an equally cautious attitude towards biobased materials playing significant part in the near future.
Good housekeeping pays dividends
Meanwhile, converters and packaging manufacturers can be far more savvy when it comes to reducing waste and cleaning up their act on their own account, said Jon Hutton, director of the Prismm specialist waste management recycling consultancy, whose core skill is finding routes to market within the printing industries for recycled and difficult materials.
'When a contractor offers you their services all they're actually providing is what's best for them. That's not necessarily what's best for you, however. The reality for most label and narrow-web printers is that most contractors will struggle to separate the usable waste from everything else it's mixed in with. Separating out any cardboard or paper etc that's in there just to get a few quid doesn't represent a decent return on the effort entailed. Landfill is the most probable destination.'
Prismm's solution was to source a supplier to UK cement kilns of SRN fuel (straight-run naptha), for which label waste's high calorific value makes it an ideal resource. From an initial commitment to fill a single articulated trailer at a time, the company now despatches up to six full loads a day to its Lincolnshire-based partner, which is transforming it into 12,000 tonnes of SRN a year. The scale is such that Prismm can take loads as low as 600kg from the smaller printers within its 65-strong customer base, whereas the larger converters such as CCL can quite easily fill one or two trailers on their own account.
'Having built up our Zero Labels to Landfill service over the past four years, we've now extended into foil,' said Mr Hutton. 'This not only encompasses narrow web converters that provide hot and cold foiling but also takes in print finishers such as Celloglas and Impact Foiling; also some packaging companies too: for example, Essentra, for whom we're getting the best rates available anywhere.
'If printers aren't on board with us then they're either doing their own thing, or else still sending waste to landfill when they could be getting a far better return as well doing right by the environment.'