Finding the right cure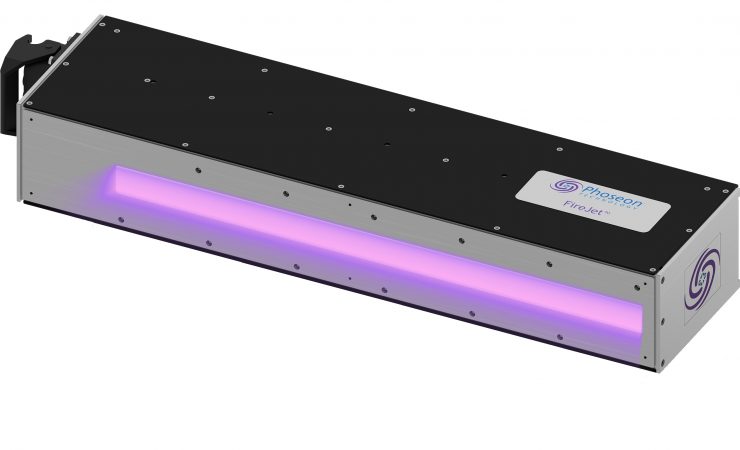 Phoseon FireJet FJ605 UV LED air-cooled system
UV curing dominates narrow web flexo printing and is increasingly used in wide web for films, although solvent is still dominant. While there are different options on the market, what is the flexo market choosing for its cure? By Sean Smyth.
UV curing technology has been around for many years and provides a virtually instant cure delivering durable glossy films with no dry-back colour changes, allowing in-line finishing with no danger of damaging the print surface.
There are environmental concerns over traditional mercury vapour lamps, because mercury is a very hazardous material requiring special treatment to dispose of it at the end of its life which can be under 1500 operating hours – less than a year in a three-shift facility. The lamps generate a lot of heat as well as UV radiation, requiring water cooling and shutters to avoid burning a substrate when the press stops for any reason. Lamps take time to warm up, consuming a lot of energy. Manufacturers have developed low energy UV alternatives reducing energy consumption, but they still have a limited lifetime. As mercury lamps age they lose peak irradiance first, meaning the curing energy falls away which may result in incomplete curing with heavy coverage. This can be disastrous for a converter producing food packaging under a good manufacturing process, so lamps are changed before this occurs, lowering the useful life and adding cost to the operation.
Made to measure
In 2018 UK headquartered GEW launched the multi-point UV monitor (mUVm) to measure the output from UV lamps to ensure full curing. One to five UV sensors are positioned along the lamp, measuring UV intensity continuously. The UV output is displayed on the control touchscreen. Alarms can be set to warn when the output gets too low,
or too high, letting users see when lamps reach end of life. With mUVm users can report 100% UV inspection, generating a UV curing certificate. mUVm complies with European legislation on food contact packaging, including Framework Regulation (EC) 1935/2004 article 3; Good Manufacturing Practice Regulation (EC) 2023/2006; Plastics Regulation (EU) 10/2011 and Swiss Ordinance SR 817.023.21.
The biggest change over the past few years has been the adoption of UV-LED technology. LEDs are light emitting diodes and the technology is now mainstream in illumination and in narrow web curing. It provides several inherent advantages over traditional mercury vapour lamp curing. There is no mercury, so concerns on the RoHS (restriction of hazardous substances) directive do not apply. Lamps can be switched on and off instantly, helping press uptime, and the LED units last for well over 20,000 hours. UV-LED cartridges are more expensive than arc lamps but the premium is falling. LED bars are composed of many individual light matrices, so it is easy to produce a module exactly matching substrate width to avoid wasting energy.
Individual modules can be exchanged in situ in the event of a failure, rather than sending the complete unit back for repair.
GEW manufactures UV-LEDs and an early installation of these was at Etygraf y Gráficas in Spain, on an eight-unit Bobst M4L comprising eight high power UV-LED lamps with hybrid RHINO power supplies. The ability of combined LED and arc UV hybrid operation whenever required by the ink formulation was a key point in the purchasing decision. Etygraf manager José Carrasquer commented, 'We use exclusively low migration inks and wanted to raise our quality standards for the complete production chain. For the UV curing component only GEW was able to offer us a package of efficiency, reliability and safe curing at high speeds. We are delighted with the UV system. We have increased our quality standards, improved reliability and productivity, and most importantly gained additional happy customers.' The ability to print delicate, heatsensitive materials was an advantage with substantial savings in electricity consumption.
Something for everyone
IST Metz sell standard UV, UV-LED and low-energy LE-UV (and hybrid Hot Swap) systems to manufacturers and also retrofits to existing presses. Because it provides all systems IST, is well positioned to advise printers on the technical advantages of the different UV options and to help customers calculate the costs, including objective advice on which inks and chemistry to use.
Simon Mitchell is joint managing director at IST (UK), he commented, 'The development of UV-LED chip arrays and semi-conductor light matrices, based on doped silicon semi-conductor technology, has brought a whole new technology to the UV printing world, displacing the traditional mercury arc lamps. UV-LED has clear environmental advantages, using up to 60% less energy than conventional UV. It is well established for digital presses and is now gaining interest rapidly in the
narrow web markets. Quick drying technology allows printers to take dry rolls from the end of the press and process them, enabling them to meet tight deadlines responsively. UV-LED also offers a great aesthetic finish.' IST Metz holds a regular UV Days event, it will take place in Nurtingen, Germany, from 13 to 16 May this year, customers or converters looking to widen their knowledge of UV can register on their website.
100,000 and counting
Phoseon Technology has been providing UV-LED technology since 2002, highlighting benefits of superior reliability, economics, and environmental performance. Last year it delivered its 100,000th UV-LED curing lamp, not all on flexo presses of course, but many are. 'We achieved a number of major business wins in flexographic markets in 2018 and significantly
increased our manufacturing footprint implementing modern lean practices and automation,' said Bill Cortelyou,
president and CEO of Phoseon Technology.
Among the products that Phoseon debuted in 2018 was the FireJet FJ605, shown at Labelexpo Americas last year in Chicago on a flexo press running at 300m/min and the water-cooled FireLine FL440. Both significantly increase the power from the LED, with the 40mm wide LED emitting window, the FireLine FL440 provides longer exposure time and greater dose to fully cure in single pass applications, delivering the highest dosage in the market with up to 135W per 25mm array. This allows production speeds to increase and lamps are scalable to support custom length options for medium to wide web applications. The FJ605, a self-contained air-cooled UV-LED curing lamp was designed for flexo applications delivering substantially more curing energy than currently offered.
ProPhotonix sells a range of laser and LED products to OEMs, including UV-LED curing systems under the Cobra Cure brand. This is a configurable platform incorporating features to ease integration, optimise performance, boost the useful lifetime while ensuring safety and reliability in the field. Innovative features include a field replaceable window designed for
rapid replacement of windows with a build-up of ink mist, without the need for any special tools.
It's not all UV
So, there are many providers pushing forward UV curing technology. But there is another alternative, electron beam curing. There is growing interest in the technology that is widely used in web printing applications, particularly in North America. The absence of photoinitiators and consistent cure makes EB attractive for printing packaging for food, pharmaceutical
or personal care products. EB ink systems have been developed for flexo printing with WetFlex from Sun Chemical allowing wet-trapping on a CI press. New applications for EB include narrow web systems using compact sealed tube 'EB lamps'. EB is well-suited for shrink-sleeve label printing, since the very low heat process prevents distortion of the heat-sensitive shrink films. EB inks are cheaper than UV or UV-LED formulations, but the drawback has been a more expensive curing system. That is starting to change with the ebeam Compact the smallest electron beam dryer, being developed for inkjet presses it could also fit into narrow web flexo to deliver a high gloss, scratch-resistant finish.
A further advantage to the absence of a photoinitiator may be continuity of supply. The Chinese government has closed hundreds of chemical factories as part of its 'Blue skies initiative' leading to fewer manufacturers of pigments and photoinitiators. Then in March the devastating explosion at the Jiangsu Tianjiayi Chemical Company, in the eastern province of Jiangsu, further exacerbated the situation. Seventy eight people lost their lives while more than 600 were injured and the authorities have closed the site until further notice. Ink makers are working to maintain supplies but cannot rule out having to offer inks formulated with alternative materials at short notice or limiting orders in excess of historical consumption. EB ink will be hit less hard.
The use of radiation curing inks is expanding. There are tools to ensure  full through curing to guarantee food safety compliance and a lot of choice to make sure there is no reason to let ink and coating drying be a problem in flexo printing.